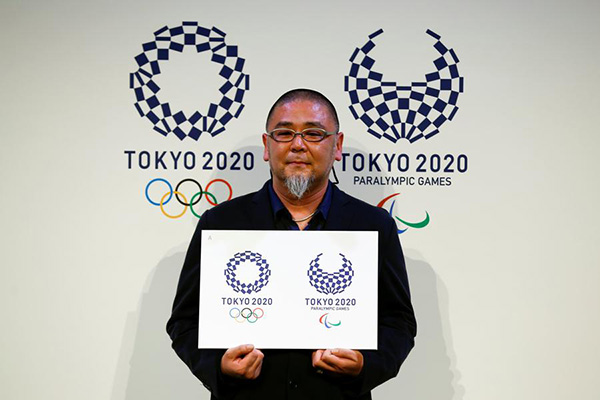 Artist Asao Tokolo poses with his winning designs for the Tokyo 2020 Olympic Games and Paralympic Games after their unveiling in Tokyo, Japan April 25, 2016. [Photo/Agencies]
TOKYO - The Tokyo 2020 Olympic and Paralympic Organizing Committee decided on a new official emblem on Monday, seven months after an initial design was scrapped due to plagiarism accusations.
The new emblem, a checkered pattern in "the traditional Japanese color of indigo blue", was designed by 46-year-old Tokyo-based artist Asao Tokolo.
It was chosen from a shortlist of four after some 14,599 entries were submitted in a contest open to the public.
Yoshiro Mori, chief of the organizing committee, said the committee had met 15 times since last September to decide on the new emblem.
The previous logo by Japanese artist Kenjiro Sano was scrapped last September over plagiarism accusations due to its similarity to the logo of a theater in Belgium.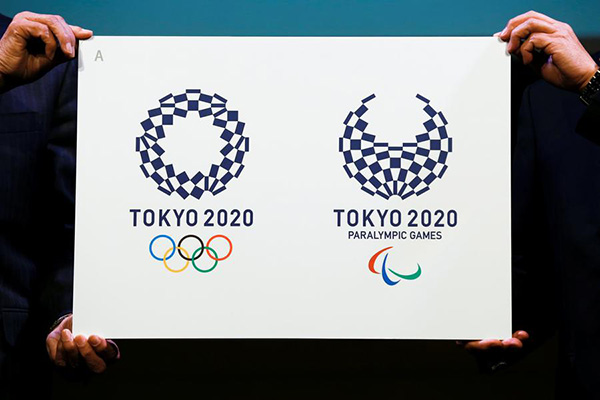 Tokyo 2020 Emblems Selection Committee Chairperson Ryohei Miyata (R) and committee member Sadaharu Oh present the winning design of the Tokyo 2020 Olympic Games and Paralympic Games during its unveiling ceremony in Tokyo, Japan, April 25, 2016. [Photo/Agencies]