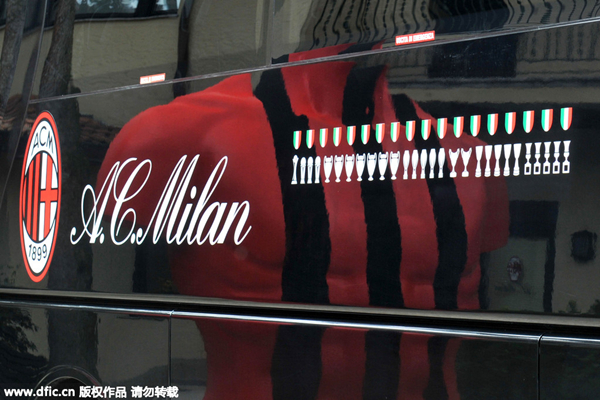 AC Milan's team bus. [Photo/IC]
ROME - AC Milan owner Silvio Berlusconi is preparing to weigh up two separate offers for the club that could see a majority stake in the Italian Serie A giants sold to either a Thai or Hong Kong businessman, reports said Thursday.
La Gazzetta dello Sport on Thursday reported the two-time Italian prime minister Berlusconi is moving closer towards selling a majority stake in the club, with Taechaubol known as Mr. Bee and Richard Lee, a Hong Kong businessman representing a Chinese-led consortium, leading the race.
Berlusconi was earlier this month quoted as saying he had agreed terms on selling a 75 percent holding in the club to a consortium with close ties to the Chinese companies.
Gazzetta said due diligence of the club had already been carried out by representatives of Mr Bee. However, the Italian sports daily said the "more important" story could be the arrival of Lee in Milan, possibly on Friday.
The report added that due diligence of the club by representatives of the Chinese consortium would be "finalised shortly", after which "concrete and official offers" could be made.
Milan are said to be among the most popular foreign clubs in China in Gazzetta's reports.
According to Forbes staff Mike Ozanian, Bee Taechaubol doesn't appear to have much money at all. "Based on additional financial information I have gotten my hands on, it is becoming clear that if the deal with Taechaubol does happen, Silvio Berlusconi is really going to be selling his Italian soccer team to Chinese investors with Taechaubol just a tiny investor," said Ozanian on Thursday.
If the deal were to go through, Milan would become the second Serie A club to be sold to Asian investors. Indonesian tycoon Erick Thohir bought a 70 percent stake in Inter Milan in November 2013.