April 21 - Highlights of Tuesday's National Basketball Association playoff games: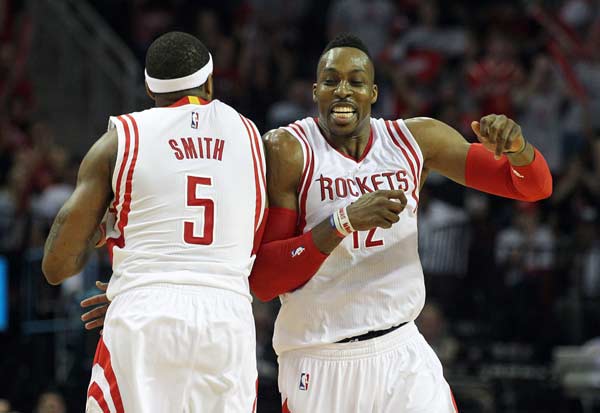 Houston Rockets center Dwight Howard (12) and Houston Rockets forward Josh Smith (5) celebrate against the Dallas Mavericks in the second half in game two of the first round of the NBA Playoffs at Toyota Center in Houston, April 21, 2015. [Photo/Agencies]
Rockets 111, Mavericks 99
Josh Smith put on a crowd-pleasing passing exhibition to help Houston pull away from Dallas and claim a Game Two victory in their Western Conference first-round series on Tuesday.
Smith finished with 15 points, eight rebounds and nine assists, seven of which came in the fourth quarter.
During one decisive stretch, he fed Dwight Howard (28 points, 12 rebounds) on four alley-oop dunks that turned a three-point deficit into a 94-86 lead with 7:39 remaining.