Hong Kong – HSBC and the Hong Kong Golf Association (HKGA) today launched the HSBC Hong Kong Junior Golf Programme, an expanded and enhanced version of the HKGA's current junior development programme which offers a structured pathway for children to try the sport for the first time, develop their skills and, for those talented enough, the chance to represent Hong Kong on the international stage.
The HSBC Hong Kong Junior Golf Programme includes a number of new initiatives, including the HSBC Golf For Schools programme and an annual match between the top juniors from Hong Kong and their counterparts in China.
The HSBC Hong Kong Junior Golf Programme complements the junior golf development activity HSBC undertakes in Mainland China and cements the bank's role as one of the biggest supporters of junior golf development in Greater China.
Peter Wong, Deputy Chairman and Chief Executive Asia-Pacific of The Hongkong and Shanghai Banking Corporation Limited, was at the SKH St. James' Primary School in Wan Chai and joined in with the kids to experience the HSBC Golf For Schools programme first hand. Mr Wong was delighted with the new partnership:
"At HSBC we pride ourselves on not just sponsoring some of the biggest golf tournaments worldwide, but also on our genuine and long-standing commitment to the growth and development of golf amongst youngsters. Therefore, it's with great excitement that we're able to launch the HSBC Hong Kong Junior Golf Programme.
"The HSBC Hong Kong Junior Golf Programme will provide a sustainable, robust platform for kids of all ages and abilities to get involved with the fantastic sport of golf," continued Mr Wong. "Furthermore, as a major supporter of golf across the region, we plan to integrate this new programme with our other relevant golf sponsorships to build a close connection between junior golf and the professional game, offering fantastic learning and playing opportunities for our junior golfers involved in the scheme. In particular, we're looking at ways to integrate our Hong Kong and China junior programmes for the benefit of all the kids involved."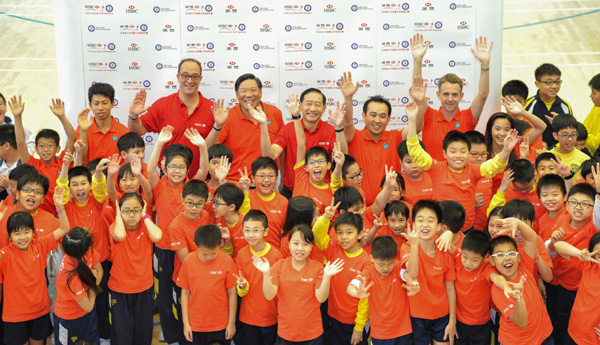 HSBC and the Hong Kong Golf Association launching the new HSBC Hong Kong Junior Golf Programme today at the SKH St. James' Primary School. From left to right: Michael Regan Wong, HKGA National Squad member; Giles Morgan, Global Head of Sponsorship & Events, HSBC; Ning Li, President of the HKGA; Peter Wong, Deputy Chairman and Chief Executive Asia-Pacific, HSBC; David Hui, Honorary Chairman of the HKGA; Tom Phillips, CEO of the HKGA and Tiana Lau, HKGA National Squad member. [For chinadaily.com.cn]