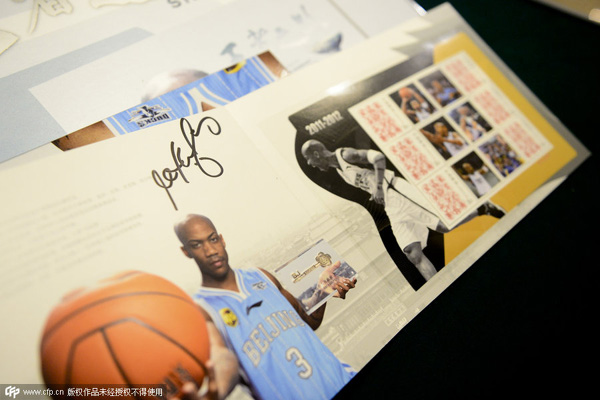 Postage stamps named in Stephon Marbury's name and face is unveiled in Beijing April 18, 2015.[Photo/CFP]
BEIJING - Former NBA star Stephon Marbury has a statue in front of the arena of Beijing's Wukesong Stadium, three Chinese Basketball Association titles and now he has a postage stamp named in his name and face.
Marbury keeps winning in Beijing. Fresh off winning his third championship in the Chinese basketball league, Marbury was honored with a postage stamp in a ceremony at the National Museum of China on Saturday.
The 38-year-old left the NBA Knicks in 2010 and reinvented himself in China, where he was named one of its 10 "model citizens" in 2014 and honorary citizen of Beijing.
"I'm still trying to wrap my head around the fact that people will be able to buy a stamp of me to mail packages anywhere in the world," said Marbury, who plans to give a speech at the National Museum of China in Beijing.
"I am truly humbled. Never did I imagine in all of my 38 years of living that I - a kid who grew up 7,000 miles away from Beijing and a kid who came from the projects of Coney Island - would have a stamp of myself. I can never have dreamed it."
Marbury has applied for a Chinese "green card", or permanent residence permit. "I'm applying for a Chinese green card," Marbury wrote last Friday in his Weibo account, Chinese version of twitter. China started to grant permanent residence permits to foreigners in 2004. Since then, about 5,000 foreigners have received permits.
Marbury, who left a 20 million US-dollar NBA contract behind six years ago to play basketball in Beijing, is now a settled superstar in China. He led Beijing to their third and second straight Chinese basketball league title last month and was voted the CBA finals MVP.