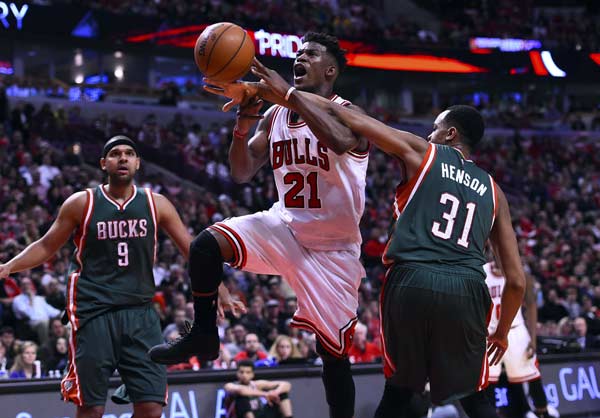 Milwaukee Bucks center John Henson (31) fouls Chicago Bulls guard Jimmy Butler (21) during the second half in game two of the first round of the 2015 NBA Playoffs at the United Center, Chicago, Illinois, April 20, 2015. [Photo/Agencies]
CHICAGO - Jimmy Butler set a playoff career-high for the second straight game with 31 points as Chicago beat Milwaukee 91-82 on Monday to take a 2-0 lead in their first-round series.
After scoring 25 points in Game 1, Butler was at his best down the stretch, scoring 14 points in the fourth quarter.
Chicago's Derrick Rose scored all of his 15 points in the second half after dominating in the series opener.
Pau Gasol added 11 points and 16 rebounds and Mike Dunleavy Jr. scored 12 points for the third-seeded Bulls.
Khris Middleton led the sixth-seeded Bucks with 22 points, and Michael Carter-Williams scored 12.
Game 3 is Thursday at Milwaukee.