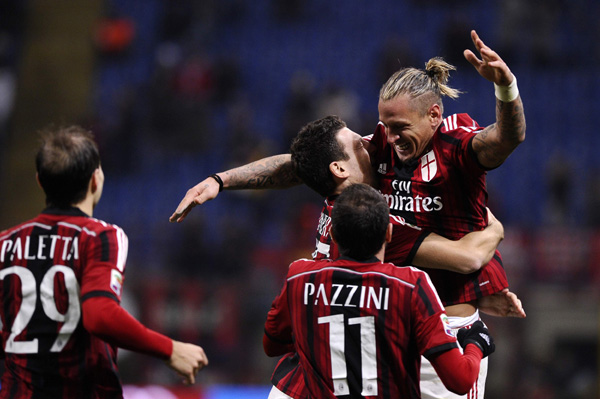 AC Milan's Philippe Mexes (R) celebrates with his teammates (L-R) Gabriel Paletta, Giampaolo Pazzini and Daniele Bonera after scoring against Hellas Verona during their Italian Serie A soccer match at San Siro Stadium in Milan March 7, 2015. [Photo/Agencies]
BEIJING - A Chinese company has launched a crowdfunding initiative to raise at least one billion euros ($1.08 billion) to buy renowned Italian soccer club AC Milan, according to an Italian soccer insider.
According to Fu Yixiang, vice president of the Italy-China Chamber of Commerce, five companies have been linked to a possible takeover of the club.
Four are based in China -- beverage maker Wahaha, real estate developer Wanda, telecommunications giants Huawei and e-commerce magnate Alibaba, and the other interested is a Thai company, Fu said.
Fu, who has sources in the Italian soccer sector, said that no company is willing to pay 1 billion euros individually for the club as making a quick profit from the investment looks impossible.
"So, a crowdfunding move is under way in China," said Fu.
"A consortium formed by several big companies will pay half of the 1 billion euros and the other half will be raised through crowdfunding with one share expected to cost no more than 10,000 yuan ($1,600)," he added.
Speculation has been swirling that Hong Kong billionaire Richard Lee is negotiating the purchase of AC Milan after being spotted with current owner Silvio Berlusconi last week.
"There are a lot of rumors like this every day," said Fu.
"Berlusconi wants to sell the club, it's not a secret. The question is that there is no consensus within his family on when to sell it.
"Some want to sell it as soon as possible arguing that it is a financial burden, while the others prefer to keep it until construction on the new stadium is completed so that they can demand a high price."
Fu believes that it's a good opportunity for Chinese investors to buy a European heavyweight soccer club.
"If Chinese funds can secure the ownership of the club, it is not hard to make a profit in the long run," said Fu.
"UEFA has imposed 'Financial Fair Play' from 2013-14 season. Now the English Premier League is already able to profit after the European governing body has tightened the total money injection into clubs.
"For a club like AC Milan, it's a tangible target to profit so long as you can tap its huge potential market value." AC Milan have won the Champions League seven times, but it has been struggling over the past seasons for financial strains. It is ranked eighth this season, collecting 41 points after 29 rounds, 29 points behind league leader Juventus.