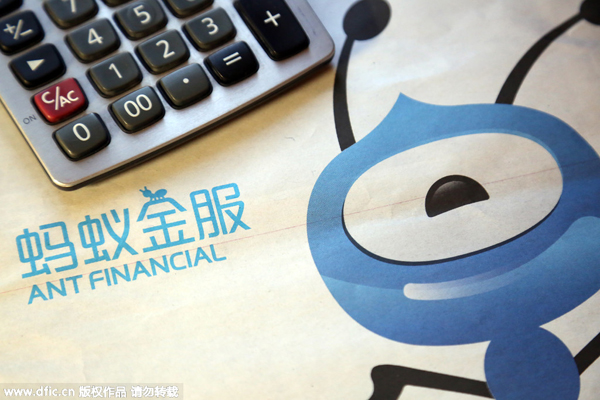 An advertisement for Ant Financial Services, an affiliate of Chinese e-commerce giant Alibaba Group, is pictured in Shanghai, China, Oct 16, 2014. [Photo/IC]
Ant Financial, the Internet finance affiliate of Alibaba Group, launched on Thursday a stock market index based the e-commerce giant's proprietary data.
The stock market index named Taojin 100 is the first of its kind that uses big data technology to analyze information on online shopping sites and reach investment decisions in the stock market.
The index is co-developed by Ant Financial, the parent company of China's largest online payment tool Alipay, Bosera Funds, China Securities Index Co. and Shanghai Glidata Inc, a financial data service company controlled by Alibaba founder Jack Ma.
The index will weigh industries according to the changes in transactions going through Alipay, the price level and the "supply-demand situation" and come up with indicators to project the business climate of certain industries in advance. These readings will be used to help choose stocks and calculate individual stock positions.
The product is seen as the latest innovation from Ant Financial as the compnay moves further into China's booming Internet finance industry.