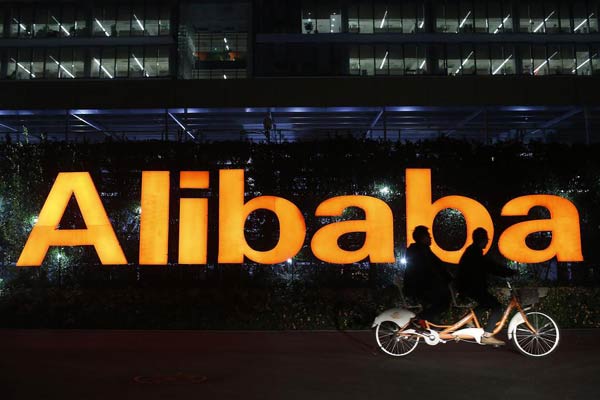 People ride a double bicycle past a logo of the Alibaba Group at the company's headquarters on the outskirts of Hangzhou, Zhejiang province Nov 10, 2014.[Photo/Agencies]
The mother of Jack Ma's private-equity fund partner became a billionaire following a higher valuation of Alibaba Group Holding Ltd's finance affiliate last week.
Wang Yulian owns 4.6 percent of Zhejiang Ant Small & Micro Financial Services Group Co, according to company filings obtained by Bloomberg News, making her the biggest shareholder in the parent of Alipay after Ma and Alibaba co-founder Simon Xie. She has a net worth of $2.4 billion, according to the Bloomberg Billionaires Index.
Wang is the 15th billionaire shareholder of Ant Financial. Twelve others emerged on Jan 30 after the company's valuation doubled to about $50 billion amid plans for a private placement ahead of an initial public offering, people familiar with the matter said.
The billionaire may be holding the shares for her son, according to James Hu, a Shanghai-based analyst at Capital Securities Corp.
"It's common for family members to hold shares for each other," Hu said. "It could be for various reasons such as a single shareholder's stake-size limit."
Wang is the mother of David Yu, who co-founded Yunfeng Capital with Ma, according to earlier filings by Huayi Brothers Media Corp. Yu and Ma are on the board of the Beijing-based film distributor. Yu also holds shares of Ant Financial, the filings showed.
Jenny Kong, a spokeswoman for Yunfeng Capital in Shanghai, did not respond to phone calls and an e-mail seeking comment from Yu and Wang. Yu also did not respond to a message sent to his microblog account.