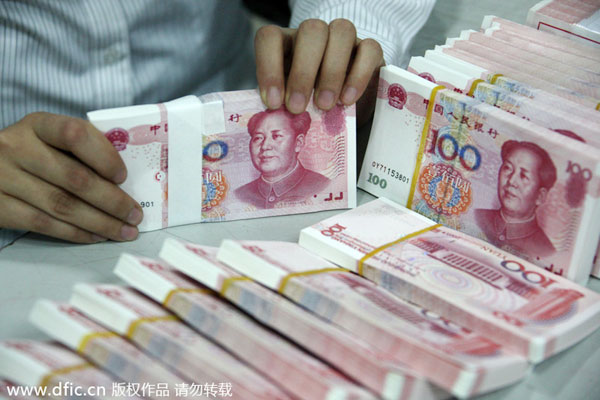 A clerk counts yuan bills at a bank in Huaibei, East China's Anhui province. [Photo/IC]
BEIJING - China's future bank reserve policies are likely to continue to lean toward agriculture and small firms, a central bank official said on Friday.
"Over the past couple of years, China has made notable achievements by orienting its bank reserves policies towards the two traditionally weak sectors," Lu Lei, head of the research department of the People's Bank of China, said in an interview.
At the end of 2014, outstanding loans to agriculture stood at 23.6 trillion yuan ($3.85 trillion), accounting for 28.1 percent of all loans, according to Lu.
"Such a proportion is high even by international standards. Through fine-tuning fiscal allocation, the long-standing issue of 'urban-rural dual structure' has been improved," said Lu.
The PBOC on Wednesday decided to lower the reserve requirement ratio (RRR), the minimum level of reserves banks must hold, by 50 basis points from Feb 5. It was the first universal RRR cut since May 2012.
The PBOC also increased support to some targeted areas, cutting the RRR by an extra 50 basis points for qualified city and rural commercial banks engaged in proportionate lending to small firms, the farming sector and major water projects.