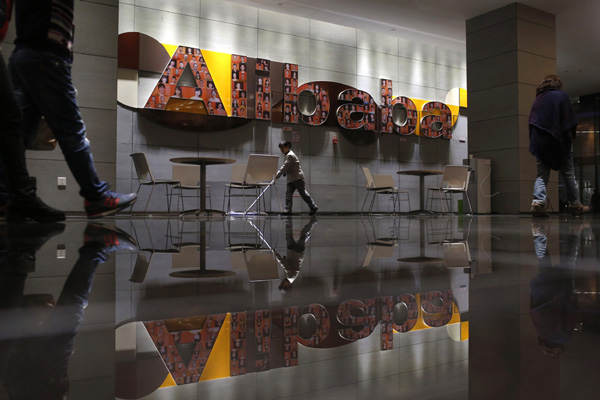 The logo of Alibaba Group is seen inside the company's headquarters in Hangzhou, Zhejiang province early November 11, 2014. [Photo/Agencies]
Alibaba's financial arm plans to list on A-share market, with an estimated valuation between 200 billion yuan ($35 billion) and 250 billion yuan, reported Shanghai Securities News on Friday.
Ant Small & Micro Financial Services Group Co, an affiliate of Alibaba Group, has launched its first round of funding before its scheduled public offer in 2017, targeting State-owned investors or ones with related background, said Shanghai Securities, quoting a document.
The company's public relations team dismissed any listing timetable. A staff from the team denied having any knowledge about the financing proposal.
According to the report, the document shows Ant Financial plans to raise 20 to 25 billion yuan for 10 percent of its stake.
Founded in October 2014, Ant Financial owns Alipay, the world's biggest online third-party payment platform, which generates more than 70 percent of its operating income, said Shanghai Securities. The company also has businesses ranging from small loans to Sesame credit management.
Ant Financial owns 30 percent stake in MYBank, which received license to operate from the regulator in September, amid the country's drive to open up its financial sector to private investors.
Ant Financial posted a net profit of 2.63 billion yuan in fiscal year 2014, and expects the margin to grow at a compound rate of 63.5 percent from 2015 to 2017, said Shanghai Securities.
Alibaba Group disclosed in its IPO prospectus that the company is entitled to 37.5 percent of its financial arm's pretax earnings.
Related story:
Unit of Alibaba turns a mom into a billionaire, by Agencies
The mother of Jack Ma's private-equity fund partner became a billionaire following a higher valuation of Alibaba Group Holding Ltd's finance affiliate last week.
Wang Yulian owns 4.6 percent of Zhejiang Ant Small & Micro Financial Services Group Co, according to company filings obtained by Bloomberg News, making her the biggest shareholder in the parent of Alipay after Ma and Alibaba co-founder Simon Xie. She has a net worth of $2.4 billion, according to the Bloomberg Billionaires Index.