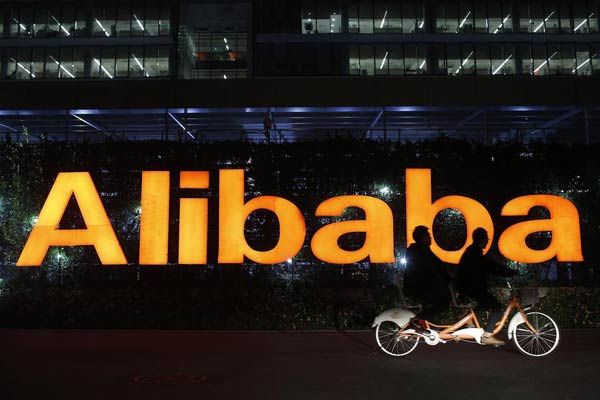 People ride a double bicycle past a logo of the Alibaba Group at the company's headquarters on the outskirts of Hangzhou, Zhejiang province, on Nov 10, 2014.[Photo/Agencies]
Insiders who bought 437 million shares of Alibaba Group prior to the company's IPO would make a major profit if they sell or trade the shares, as the earliest lock-up period for the stock expired on March 11, Reuters reported Tuesday.
The total lock-up represents about 18 percent of Alibaba's shares, which if sold would be worth just over $37 billion as of Friday's closing price, the report said.
Among the 437 million shares, 100 million are subject to trading restrictions that apply to employees until the company reports results in May.
And a larger lock-up of more than a billion shares held by insiders, including founder Jack Ma and Yahoo Inc, expires in September, according to Reuters.
Current and former Alibaba employees hold around 26.7 percent of the company, having built up holdings through stock options and other incentives since 1999, data from a Reuters report in June last year showed, though Alibaba did not identify the shareholders.
If the company's shareholders sell or trade their shares, the tax to be paid could be billions of US dollars, as China taxes residents 20 percent on capital gains, wherever made. Alibaba employs most of its 22,000 staff in China.
According to US securities filings, Chinese citizens or year-long residents who participated in Alibaba's stock incentive programs were required to register with the State Administration of Foreign Exchange (SAFE), once the company went public.
However, as the expiring lock-up shares were obtained at different times and cost, the holders' gains are unknown, Reuters said.
Alibaba, the Chinese e-commerce giant, was listed on the New York Stock Exchange, and raised $21.8 billion, making it the largest ever IPO in US history.