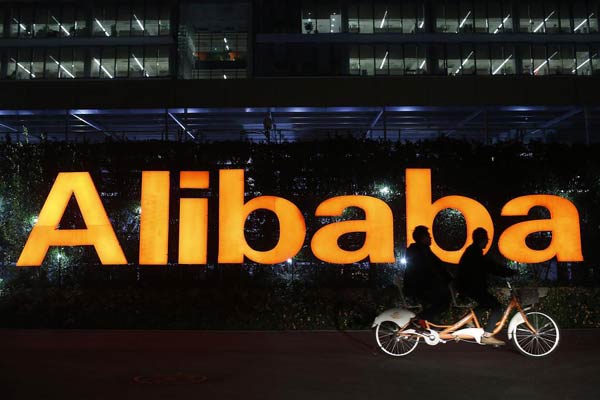 People ride a bicycle past a logo of the Alibaba Group at the company's headquarters on the outskirts of Hangzhou, Zhejiang province Nov 10, 2014.[Photo/Agencies]
Vehicle producer SAIC Motor Corp Ltd and e-commerce company Alibaba Group Holding Ltd announced on Thursday they would invest 1 billion yuan ($160 million) in a fund to develop Internet-connected vehicles.
The fund, which is open to further investment from third parties, will promote the development of "cars on the Internet" and build operational platforms for Internet-connected cars, said a joint statement from the two companies.
A 50-50 joint venture between SAIC Motor and Alibaba will be set up based on the fund, which aims to roll out China's first Internet car next year.
Alibaba said that it will integrate its businesses, which range from e-commerce, finance, digital entertainment, mapping and messaging into Internet-connected cars. The effect will be to give vehicles a "brain", it said, via cloud computing and big data technology.
Internet-connected cars are seen as the foundation for smart transportation and eventually, advanced self-driving cars.
"Internet-connected vehicles can help improve the communication between people and vehicles, as well as the communication among vehicles, roads and infrastructure," said Wang Jian, chief technology officer of Alibaba.
With Internet access, vehicles will be able to communicate with each other to determine the best way to get where the passengers want to go.