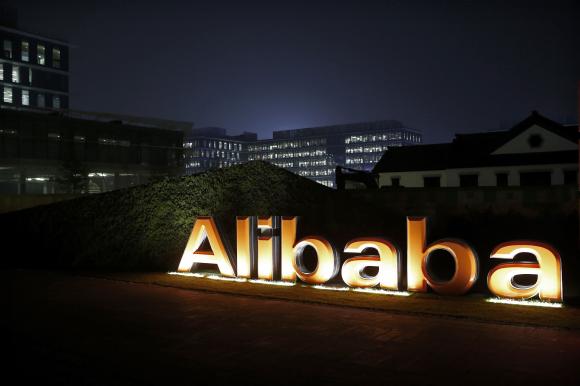 The logo of Alibaba Group is seen inside the company's headquarters in Hangzhou, Zhejiang province early November 11, 2014.[Photo/Agencies]
Alibaba Group Holding Ltd is investing $200 million in photo-messaging app Snapchat, a source familiar with the deal said, striking its latest Silicon Valley deal as the Chinese e-commerce company builds up mobile services.
The investment values the company at around $15 billion, according to Bloomberg, citing people familiar with the situation as saying. This places the four-year-old company into the top ranks of privately held startups.
Snapchat's latest valuation is a massive increase for a company that Facebook offered to buy in late 2013 for $3 billion.
Los Angeles-based Snapchat, which allows its more than 100 million users to send messages that disappear in seconds, had sought capital to extend its core service. In January, it began carrying videos and articles from mainstream media outlets such as CNN and ESPN, bringing Snapchat into closer competition with Facebook Inc and Twitter Inc.
It is unclear what value the startup would bring to Alibaba, which handles more online commerce than Amazon.com Inc and eBay Inc combined. The Chinese company, which has been coping with a steady increase in shopping via smartphones and tablets, has made it a priority to develop mobile services.
Alibaba's investment spree comes also as the company plans a major move to win US business this year, by offering American retailers new ways to sell to China's vast and growing middle class.
Led by Michael Zeisser, cable magnate John Malone's former dealmaker, the Chinese company has steadily expanded its portfolio of American investments over the past year or two. It has invested in a raft of US startups including rides-on-demand service Lyft and messaging app Tango.
Silicon Valley insiders who have held discussions with Alibaba say its US deals are central to its strategy of becoming the world's dominant e-tailer. Snapchat would rank among its largest investments in the country so far.
A month ago, Bloomberg reported that Snapchat is looking to raise as much as $500 million in a new funding round that would value the Los Angeles-based company at up to $19 billion. The Alibaba investment would not be part of that previously reported round, Bloomberg reported on Wednesday.
Snapchat did not respond to requests for comment.