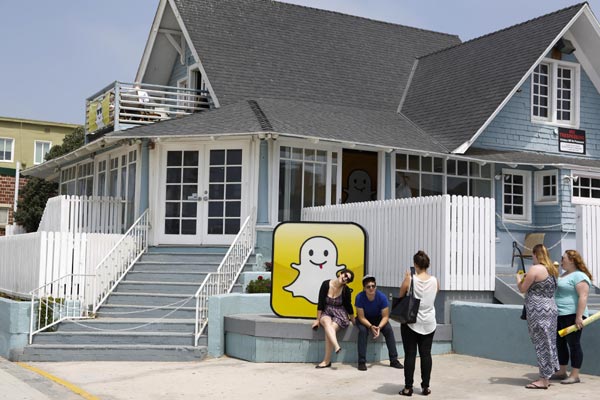 People take pictures in front of the Snapchat Inc headquarters in Los Angeles. Alibaba Group is planning an investment in Snapchat in an effort to beat its competition and win more market share on the mobile platform. Provided to China Daily
China's e-commerce giant Alibaba Group Holding Ltd is reportedly in talks to provide funding to US messaging company Snapchat, further adding to the Hangzhou-based company's string of investments in American companies leading up to its IPO debut in the United States.
Alibaba is part of a group of investors negotiating with Snapchat, according to Bloomberg News, which said this latest round of financing may value the California-based company at $10 billion.
Alibaba and Snapchat representatives did not return requests for comment.
Founded in 2011, Snapchat is a messaging application where users send photos to friends - called "snaps" - and limits the viewing time to 10 seconds before the snaps disappear.
Users send more than 700 million snaps a day, according to Snapchat, though it has never disclosed its user numbers, which analysts estimate to be about 80 million.
Justin Ren, professor of technology management at Boston University's School of Management, said Alibaba's continued investment in US firms serves multiple purposes for the company, since it is now "a company from an emerging economy that has just started its ascending step to the world stage".
Alibaba's interest in Snapchat may be a signal to the Western world that it is aspiring to be a major player in the tech industry, he said.
"It can be an effort to increase its relevance in the new economy. Alibaba is mainly a technology company, and it desires to stay at the forefront of the high-tech world. In China, PC-based e-commerce is stagnating while mobile-based commerce is the new wave," Ren said. "Because Alibaba is currently lagging behind Tencent in market share in mobile e-commerce, investing in Snapchat may be one of the company's efforts to beat its competition and win more market share on the mobile platform."
Being associated with growing Internet brands like Snapchat - with its young demographic of users aged 13 to 25 - may raise Alibaba's brand recognition in the US, Ren said. The messaging company makes no money from its mobile application, but its features, user base and growth were enough to stir Facebook's interest last year with a $3 billion offer to purchase Snapchat, which was rejected.
"In the near future, I think Alibaba is trying to reach more users outside China. People in China know about Alibaba and know what kind of company it is, but people here don't," said Henry Guo, analyst at Connecticut-based JG Capital. "In the future, Alibaba might be able to monetize its connection with Snapchat, but in the near term, this serves a branding purpose."
Compared with Chinese companies like Tencent with its flagship WeChat messaging application, Alibaba doesn't have an equally robust product, Guo said.
"You think about WeChat in China, which Tencent gradually added e-commerce elements to. But Alibaba doesn't have anything significant like WeChat, so Alibaba needs partners like Snapchat to build a user base in order to add mobile e-commerce to the platform in the future," he said.
Alibaba most recently invested in ride-sharing company Lyft, which lets users request and give car rides to others, similar to services provided by Uber. Alibaba was part of a $250 million round of financing for the San Francisco-based company.