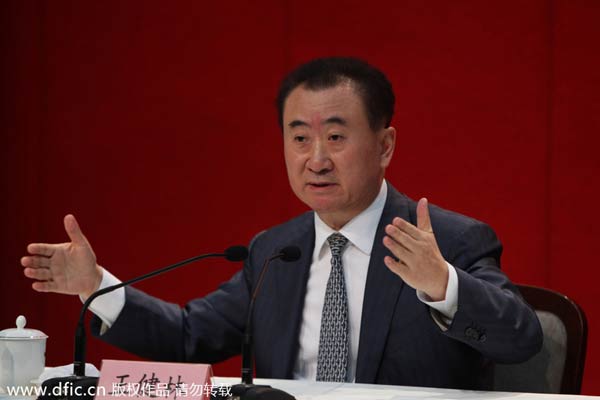 Wang Jianlin, Chairman of Dalian Wanda Group, speaks at a press conference in Shanghai, China, March 21, 2014. [Photo/IC]
Wang Jianlin, a real estate mogul reported to be China's richest man, made a bold display of ambition and national pride in a recent interview with CNN, jokingly offering to buy the US news channel on the spot.
"Our investment department and investment banks are in negotiations with many companies. There's nothing confirmed yet. But you can go back and ask your boss if CNN is for sale. I can buy it, too," Wang was quoted as saying, when asked whether his Dalian Wanda Group was looking at any potential acquisitions.
The Beijing-based property czar said the words with a smile, and it was reported that CNN laughed them off as well, but his humor could not hide his goals.
"Our goal is to make the Wanda brand like IBM or Walmart or Google, a brand known by everyone in the world," Wang said in the interview, which first aired on July 4 but was made available to Chinese
audi
ences via the Wanda website on Monday.
Almost at once, the interview sparked interest online. News related to Wang's CNN interview had received roughly 1,870,000 entries by early Friday. Keywords "Wang Jianlin and CNN" were among the top 25 hot words on Sina Weibo, China's Twitter-like micro blogging website, and the subject had received almost 300,000 hits.
His strong words also reflect China's growing economic clout. Wang told CNN his company's overseas profits are expected to account for one-third of its total $100 billion revenue by 2020.
Dalian Wanda, owner of 88 flagship Wanda Plazas in China, has been on an overseas buying spree, tapping into property, tourism, culture and entertainment. In 2012, the Chinese conglomerate spent $2.6 billion acquiring AMC, a US movie theatre chain.
Last year, it closed two deals in Britain, investing 700 million pounds ($1.18 billion) to build a five-star hotel by the River Thames and buying a 92-percent share of British luxury yacht manufacturer Sunseeker Yachts for 320 million pounds.
It also became one of the first Chinese investors to enter the Spanish market with a purchase this year of an office building in Madrid from the Santander Banking Group for 265 million euros ($354.7 million).
Most recently, the company has proposed to buy a Chicago waterfront real estate project for up to $900 million.
Liu Wei contributed to the story.