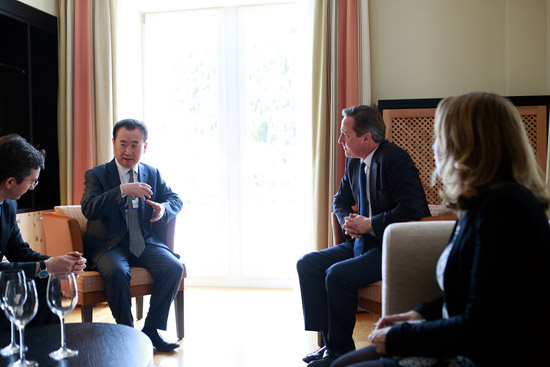 Wang Jianlin, Chairman of
Dalian Wanda
 Group, talks to UK Prime
Mini
ster David Cameron on Jan 24, 2014 in Davos, Switzerland. Provided to chinadaily.com.cn 
MADRID - Chinese businessman and billionaire Wang Jianlin bought the emblematic building known as "Edificio Espana" in Madrid for 265 million euros ($361 million), Spanish lender Banco Santander officially confirmed on Thursday.
The president of the community of Madrid, Ignacio Gonzalez, had said on March 19 that Wang and Spain's Grupo Santander had reached an agreement on the issue, which was officially confirmed on Thursday.
According to local media, Wang, who owns Dalian Wanda, will pay five million euros more for the building than it was previously agreed.
Banco Santander had bought the building in 2005 for 389 million euros.
The Edificio Espana, an example of the Spanish architecture from the 1940s and 1950s, is an emblematic building in Madrid and became the first skyscraper in Spain after its inauguration in 1953. At that time it was the highest building in Europe with its 117 meters high.
A total of 200 million pesetas ($1.6 million), Spain's former currency, were invested in its construction in order to build its 25 floors, 32 lifts, 184 apartments, a luxury hotel with 307 rooms, a ball room for 1,200 people and a swimming pool on the upper deck.