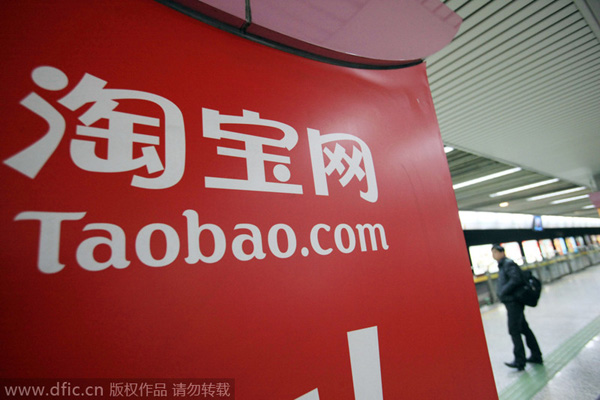 An advertisement for online shopping site Taobao.com of Alibaba Group is seen at a metro station in Shanghai, Nov 12, 2014. [Photo/IC]
Chinese e-commerce behemoth Alibaba saw its shares fall nearly 3 percent on Tuesday, hitting a new low since its listing, as concerns over fake transactions on its site spilled over.
Bogus orders are said to be common among sellers struggling to bloat sales and gain prominence, where they hire "brushers" who pretend to be customers and purchase with the money given, reported Wall Street Journal.
At its main shopping site Taobao, China's largest online shopping platform, vendors with more sales volume and good reviews often gain higher standing.
Alibaba closed at $81.58 on Tuesday, down 2.9 percent. Shares have retreated about 30 percent since its peak in November last year.
"The existence of fake transactions is like a tumor inside Alibaba's eco-system," said Cao Junbo, chief analyst at iResearch Consulting, adding that once sellers turn to brushing instead of promoting their services and products quality, both customers and the platform will get hurt.
"Alibaba is aware of that and has been working hard to clamp down fake transactions and purify its eco-system for shoppers," said Cao.
Alibaba Vice President Yu Weimin earlier said the company had found 1.2 million sellers on Taobao, or roughly 17 percent of all merchants, had faked 500 million transactions worth 10 billion yuan in 2013, reported Xinhua.
Yu added that his conservative estimate was that tens of thousands of people in China were getting paid by online sellers to fake transactions.
"E-commerce platforms can only reduce the figure of fake order, but it's unlikely to entirely eliminate such phenomenon," said Cao Junbo.
According to the Journal, fake order is considered a form of false advertising, which is prohibited in the US and China, and puts Alibaba at risk of further regulatory scrutiny.
The e-commerce giant posted its fourth quarter earnings in January. The company's net income fell 28 percent to 5.84 billion yuan ($957 million).