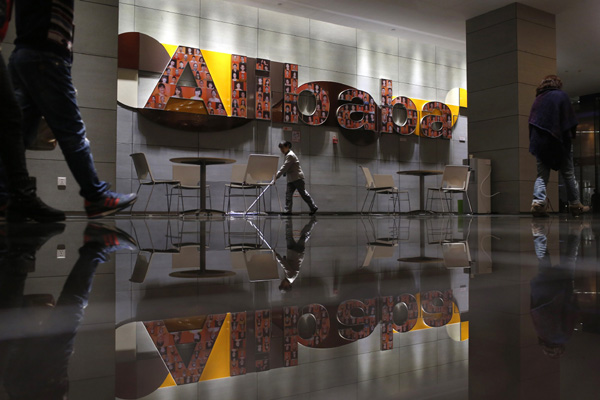 The logo of Alibaba Group is seen inside the company's headquarters in Hangzhou, Zhejiang province early November 11, 2014. [Photo/Agencies]
E-commerce giant Alibaba said last Friday that US regulators have requested information on Chinese authorities' allegations that the company has failed to do enough to prevent fake goods from being sold on its websites.
Alibaba said it is cooperating with the request from the US Securities and Exchange Commission.
The company, which raised a record $25 billionlast year, in its initial sale of stock in the US, said the SEC is seeking information related to its interactions with Chinese regulators.
Last Monday, during a meeting with ZhiShuping, director of the General Administration of Quality Supervision, Inspection and Quarantine(AQSIQ), Jack Ma, founder of Alibaba, was told that quality was Alibaba's bread and butter and it should live up to this responsibility, according to a statement published one day later on AQSIQ's website.
Alibaba disputed the allegations, firing back at the Chinese regulators with charges of bias and misconduct.
The SEC's letter states that its inquiries should not be seen as indicating Alibaba has violated any US securities law, the company said.
SEC spokesman John Nester declined to comment.
Alibaba also said it wasn't legally obligated to disclose the SEC inquiry but chose to do so "because we value being open with our investors and feel that disclosure could help avoid false rumors or speculation."
Shares of Alibaba slipped 51 cents to $88.54 in after-hours trading following the company's announcement. That's down from $102.94 last month before news emerged of the Chinese regulators' allegations.
Jack Ma held two meetings with the heads of the GAQSIQ and the State Administration for Industry and Commerce (SAIC) in the last two weeks to discuss the crackdown on counterfeit products.
The meetings came after the company's Taobao division publicly clashed with the SAIC after the market regulator blasted the consumer-to-consumer platform for failing to tackle the problem of fake products.
A quality check carried out by the SAIC between August and October showed that less than 40 percent of goods on Taobao that were tested were genuine.
In the latest development, Ma said in an internal e-mail to the group's employees on last Friday that it is inevitable that public companies encounter such challenges. He said Alibaba needs to get used to "being questioned" and actively face the challenge.