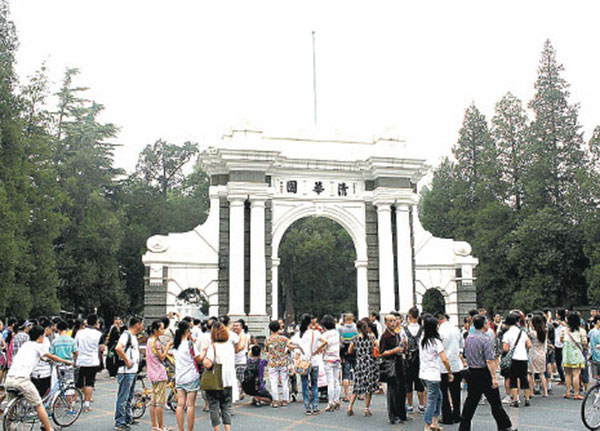 File photo taken on July 2013 shows students, some with their parents, wait to enroll for the new semester at Tsinghua University.[Photo/China Daily]
Tsinghua University was listed as one of the world's 20 best schools-a first for China-in a prestigious international ranking that was released recently.
The achievement reflects China's growing reputation for quality teaching and research that is attracting more students from abroad.
The 2016 Times Higher Education World University Rankings placed Tsinghua University in 18th place, just behind Cornell in the United States and ahead of renowned institutions such as Johns Hopkins and the London School of Economics. Tsinghua rose from 26th place last year.
Peking University rose to 21st from 32nd place last year, and for the first time Zhejiang University, Fudan University and Shanghai Jiao Tong University entered the top 100.
Phil Baty, editor of the rankings, said leading academics increasingly view China's leading universities as being among the world's best.
"This is primarily because China has invested heavily in its universities, giving them the resources they need to compete against the very best in the US and Europe," he said.
According to the Ministry of Education, China received more than 377,000 students from 203 countries in 2014. About 2,500 higher education institutions in China offer places to foreign students.
Rapidly improving standards and the benefits of a Chinese university degree for students' prospects have prompted foreign governments to encourage study in China.
The British Council's Generation UK campaign, launched in 2013, aims to increase the number of British students taking part in studies or internships in China to 80,000 by 2020. Since the campaign began, the number of British students going to China annually has increased by more than 40 percent, reaching 7,900 last year.
Lukas Thibaut, spokesman for the education division of the British Council in China, said China offers British students fantastic opportunities to develop their cultural awareness and international outlook.
Kate Smith, 29, an Australian in the first year of a PhD in environmental science and engineering at Tsinghua University, said Chinese universities' high rankings play a big role in students' choice of where to study.
Smith decided to study at Tsinghua after receiving a scholarship from a foundation that supports between 10 and 20 students annually in pursuing postgraduate studies abroad.
The rankings give an overall score to universities based on a wide-ranging survey of scholars. The latest rankings are based on 10,323 responses from 133 countries.
China has its own Academic Ranking of World Universities, launched in 2003. Last year, no Chinese universities appeared in the top 50.