Question regarding 1992 Consensus cannot be evaded by Tsai, mainland spokesman says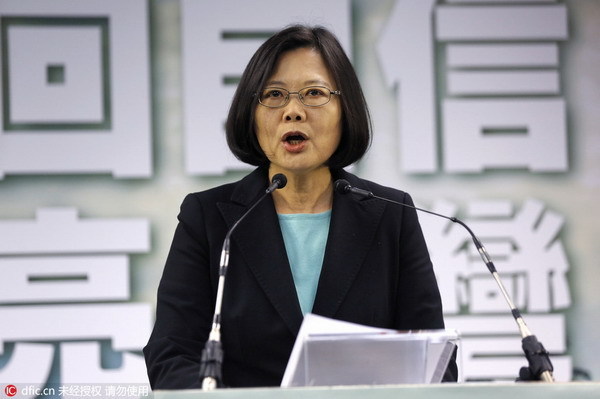 Taiwan's main opposition Democratic Progressive Party, DPP, Chairperson Tsai Ing-wen speaks during a press conference in Taipei, Taiwan, Wednesday, April 15, 2015. [Photo/IC]
The Chinese mainland's Taiwan affairs spokesman, Ma Xiaoguang, said on Wednesday that the island's new leader must, without any equivocation, clarify her stance on cross-Straits relations.
Ma, spokesman for the Taiwan Affairs Office of the State Council, said at a regular news conference that Taiwan must clarify the issue.
In a speech after taking office on Friday, new leader Tsai Ing-wen was ambiguous, despite cross-Straits relations being of the utmost concern to people on both sides of the Taiwan Straits, Ma said.
Tsai did not explicitly recognize the 1992 Consensus, which says that both the mainland and Taiwan are parts of one China, and she offered no concrete proposal to ensure the peaceful and stable growth of cross-Straits relations, he said.
"The issue is a question that must be answered — it cannot be evaded," said Ma.
The cross-Straits cooperation process will only continue when the island's new leader fully endorses the one China principle, Ma said.
The mainland opposes all separatist activities advocating "Taiwan independence" in the name of "law amendments", he added.
"No one shall test our resolution and capability to safeguard our national sovereignty and territorial integrity," he said.