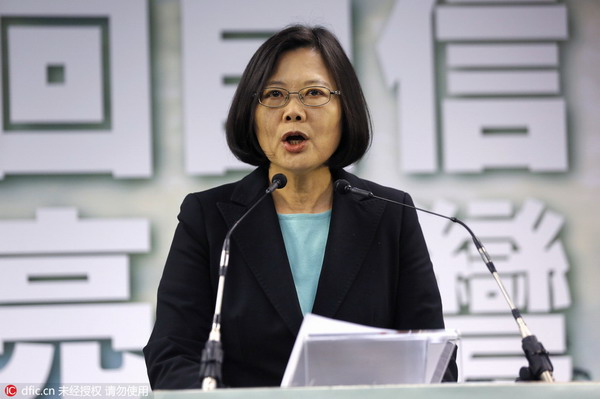 Taiwan's main opposition Democratic Progressive Party, DPP, Chairperson Tsai Ing-wen speaks during a press conference in Taipei, Taiwan, Wednesday, April 15, 2015. [Photo/IC]
Despite obvious dissatisfaction with Tsai Ing-wen's failure to endorse the 1992 Consensus that commits to the "one China" principle, Beijing has demonstrated impressive patience.
Such patience got a fresh footnote on Monday in Geneva at the 69th World Health Assembly, when, against speculation that discontented Beijing would regret extending goodwill to the island's then leadership-in-waiting and find fault with Taipei's observer status, Tsai's delegates participated without trouble.
It would not have been a surprise if the anticipated trouble did arise. Because, the presence of the island, which is not a sovereign entity in international law, at the WHA was contingent on Beijing's consent. Taipei's status as an observer was arranged under the 1992 Consensus. The mainland has made it clear that many mutually beneficial mechanisms in place would become castles in the air without Taipei committing to "one China".
But just four days into the Tsai era, what have we seen?
On Saturday, the first day after Tsai's inauguration, her "education minister" announced the syllabus modifications sanctioned by the previous Kuomintang administration in 2014 would soon be abolished. Those modifications, textbook expressions in conformity with "one China", were meant to correct revisions under a previous independence-minded Democratic Progressive Party leader and a Kuomintang leader who deemed the mainland and Taiwan to be "two states".
When Tsai and her "cabinet ministers" performed the ceremonial routine on Monday to pay homage to the founding father and martyrs of the "Republic of China", they skipped the symbolic ritual of paying homage to the burial site of Sun Yat-sen, the founding father, on the mainland. Though Tsai's office denied it indicated an intention to cut links with the mainland, it is impossible to not associate this with the earlier DPP attempt to remove Sun's portraits from public places, which was widely believed to be part of a broader DPP plot to "de-Sinicize" Taiwan.
On Monday evening, in an executive order confirming the appointment of the island's new representative to the United States, Tsai addressed the new envoy, whose official title has always been "representative", as "ambassador". In both diplomatic practice and international law, only sovereign entities, which Taiwan is not, send "ambassadors" to foreign countries.
Tsai is proving with her deeds that without declaring it she is inclined to de facto separation of the two sides of the Straits.
Unless she finds a way to stop the status quo of cross-Straits ties becoming the status quo ante, a new period of turbulence lies ahead.