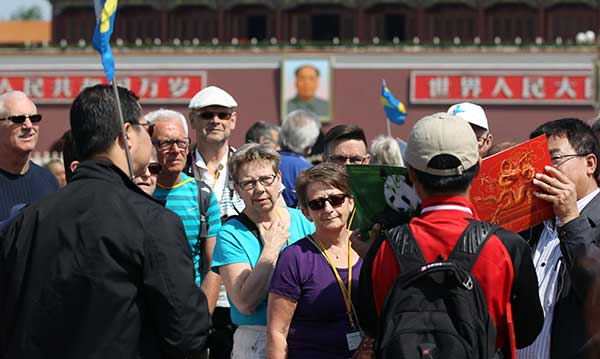 More than 137 million foreign travelers are expected to visit the country in 2016. [Photo by Zou Hong/Asianewsphoto]
Amid China's effort to enhance its appeal as an international tourism destination, Chinese travel agencies are seeing new business opportunities in tourists from overseas.
Ctrip, China's leading online travel agency based in Shanghai, said inbound tourism has regained the attention of travel agencies, thanks to the 10.9 percent growth of foreign visits in the first quarter of 2016.
"The major business of Chinese travel agencies is serving Chinese tourists, despite the fact that China's modern tourism industry was bred by inbound visitors," said Zhu Lei, head ofstrategic cooperation for international business under Ctrip. "The same investment could generate more profit in outbound tourism or the domestic tourism sector. Providing services for overseas tourists requires more in terms of technical capability and marketing foresight. So only few travel agencies offer such services."
Zhu said the inbound tourism sector accounts for less than 5 percent of Ctrip's business.
China CYTS Tours started its business in 1980 by running tours for foreign tourists in China. It shifted its focus around 1992 to the domestic market. Now in Beijing, the most popular city among foreign visitors, its inbound business accounts for about 10 percent.
Industry insiders said inbound tourism will soon be back on a fast track of development. The China National Tourism Administration expects more than 137 million visits paid to China in 2016, an increase of 2.5 percent over the previous year. International tourism revenue is forecast to increase by 6.5 percent, reaching $121 billion. That would be the second consecutive year of growth for China's inbound tourism market.
Yu Liangbing, deputy general manager of inbound tourism for China CYTS Tours, said China saw three years of declines in inbound tourist numbers starting in 2012 because of air pollution, visa difficulties, currency exchange rates and the overall struggling global economic situation.
"It is expected that the performance of inbound tourism of CYTS will stay at the same level as last year," Yu said. "We expect to have 10 percent growth in 2017."
Ctrip is also taking steps for overseas expansion. It set up offices in Asian countries and regions to serve local tourists. Asian countries and regions are the largest area from which China's inbound tourism comes.
"In the future, we are not only providing service to foreign tourists who want to travel to China but will also provide services to foreign tourists who want to travel to other countries," said Zhu.
However, the number of overseas tourists flocking to China also creates challenges for tourism attractions. Yu of CYTS said that in the past more than 80 percent of overseas tourists came in groups, but now more than 70 percent come to China on their own.
"Chinese governments should improve their capability to accommodate overseas tourists, such as high quality restaurants, hotels, better connectivity and foreign language signs," said Zhu.
Related: More people skip agencies, make own plans