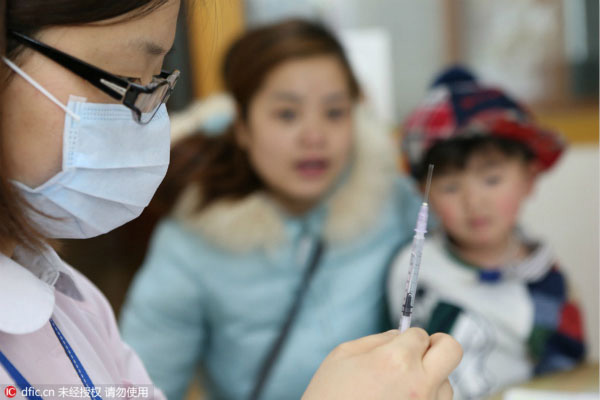 A Chinese medical worker prepares to vaccinate a young kid at a hospital in Shanghai, China, March 20, 2016. [Photo/IC]
Prosecuting authorities have approved the arrests of 125 people suspected in a vaccine scandal involving 570 million yuan ($87 million), the Supreme People's Procuratorate said on Friday.
Another 37 people involved in the case were being investigated on suspicion of duty-related crimes such as bribery, abuse of power and dereliction of duty, it said.
The vaccines involved in the case had allegedly been sold since 2011 in more than 20 provinces, autonomous regions and municipalities by a mother and daughter in Shandong province.
The vaccines allegedly were not properly stored in cold conditions, which might have reduced their effectiveness. No deaths or injuries were reported in relation to the use of the problematic vaccines.
After the case was reported in February, the central government set up a special investigation team in March of officials from various ministries and the Supreme People's Procuratorate.
Of the 125 arrested, two had been convicted by the court as of Thursday, according to the Supreme People's Procuratorate.
Most of those suspected of abuse of power are medical staff at township or community health centers who allegedly bought vaccines from sellers, despite knowing that the sellers were not certified to sell vaccines, according to the procuratorate.
Most of those suspected of dereliction of duty are chiefs of township health centers who allegedly turned a blind eye to the medical staff in the centers buying the problematic vaccines through illegal channels, the procuratorate said.
The vaccines involved in the scandal were Category Two vaccines, for which users must pay.
The management of such vaccines was not as strict as for Category One vaccines, such as those for hepatitis B and the polio virus, that are mandatory and provided by the government for free.
Following the incident, the State Council, which is China's Cabinet, released a revised regulation in April to tighten the management of all vaccines.