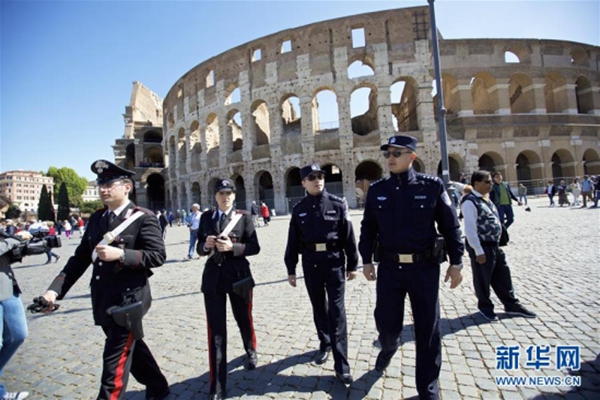 Chinese police officers Shu Jian (first from right) and Sa Yiming (second from right) patrol with their Italian counterparts near the Colosseum in Rome on May 2 under a Sino-Italian agreement launched that day. [Photo/Xinhua]
Although they are police, they are not allowed to carry guns. This is what the first group of four Chinese police officers looked like when they went on their first patrol in Europe, the Beijing News reported.
"In Rome, my work is to patrol on foot at the main tourist spots, areas frequented by overseas Chinese, and sometimes railway stations and subway stations between 8:30 am and 4:30 pm," said Pang Bo, head of the four-member team for the first Sino-Italy Joint Police Patrol. They returned to China on May 14 after two weeks in Rome and Milan.
As a policeman in Guangdong province, Pang Bo once joined the UN peacekeeping operations in Bosnia and Herzegovina and Haiti during his 21 years in service.
Unlike UN missions when he was working under the UN mandate, this was the first time that Pang jointly carried out law enforcement missions in another country while wearing Chinese police uniforms.
When in Italy, they do not have the independent law enforcement rights but only offer a helping hand to local police. Thus, they are not allowed to carry police tools or guns or drive police vehicles, according to Wang Gang, director of Europe department, International Cooperation Bureau, Ministry of Public Security.
"We mainly help Chinese residents and tourists," Pang said, "but we also help others who turn to us for help and quarantine suspicious personnel."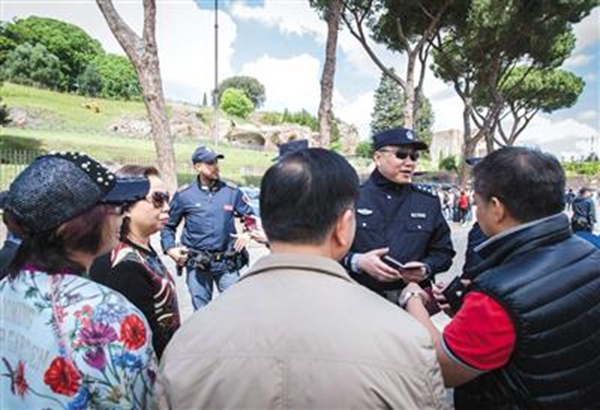 Pang Bo talks with Chinese tourists in the street of Rome on May 2. [Photo provided by Ministry of Public Security]
They once helped handle a criminal case in which some Chinese journalists from a domestic TV station had their luggage stolen from their car after windows were broken. Now the case is still under investigation.
Another time, they provided assistance to an elderly French couple. One of them sprained their ankle. Pang and his colleagues brought them an ice bag for pretreatment and called an ambulance.
Most of the time, they served as a source of information rather than dealing with cases.
"Our colleagues in Milan answered about 100 enquiries. Most people asked the way, some asked for the help, and some just wanted to chat or take photos with us," said Pang.
On the first day, Pang was not familiar with the way. But on the second day, he took a map with him. When asked, he would point the way on the map.
Pang is good at English and French but speaks little Italian. "I really need to improve my Italian proficiency," said Pang with a smile.
This new type of international police cooperation also presents challenges. "The biggest challenge for me is that I have to be very familiar with the law system and judicial procedures of the country I work in," said Pang.
The joint police patrols stem from an agreement between China and Italy reached in 2014 and confirmed last year. The cooperation will continue with more Chinese police officers being dispatched, said an official with the Ministry of Public Security.