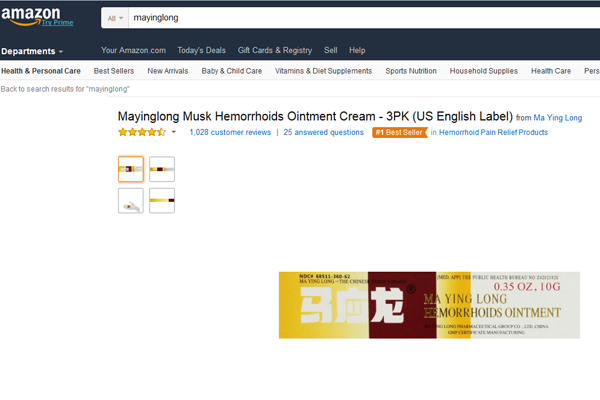 Ma Yinglong ointment sold on Amazon.com is rated 4.3 of 5 stars, receiving 1,028 customer reviews till May 19,2016.[Photo/Amazon.com]
An ointment for hemorrhoid has become a hit on Chinese social media after it received rave reviews on Amazon in the US.
Mayinglong Musk Hemorrhoids Ointment Cream is rated 4.3 out of 5 stars and has been called the number one product to relieve hemorrhoid pain and notched up 1,028 customer reviews on the e-commerce giant's website.
The response of US customers has surprised users as Lao Gan Ma Chili Crisp Sauce is considered the favorite of both Chinese living abroad and those traveling overseas. However, Lao Gan Ma has only received 74 reviews despite being rated as high as the Mayinglong ointment.
In a comment that was posted 5 five years ago and around 500 people find helpful till today, the ointment is described "fantastic" and it feels "like applying rose-colored ice cream to your bum... and the cool lasts".
Another user said the person who created the product should receive a Nobel Prize and be given a front-row seat at the Olympics.
The 10-gram product is sold for $5.88 per pack on Amazon, while its price on Alibaba's tmall.com is only around 8 yuan ($1.22).
Xia Youzhang, Secretary to President of Mayinglong Pharmaceutical Group, expressed his surprise on the popularity of the product in an interview to thepaper.cn.
The Mayinglong ointment sold abroad only makes up 2 percent of the company's total sales volume and Xia said there are no plans to expand in overseas market.
An article on this topic on WeChat, an instant messaging app, has been read more than 100,000 times.