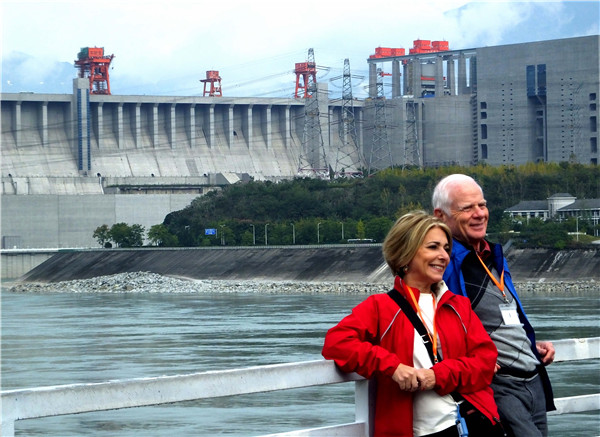 An overseas couple pose for a picture during their visit to the Three Gorges Dam in Yichang, Hubei province.REN WEIHONG/CHINA DAILY
Investment interest of Chinese hydroelectricity company CTG cheers Brazilian industries
Despite fears that Brazil may no longer be attractive as an investment destination given the looming recession, Chinese companies that specialize in hydropower dams remain unfazed.
They see Brazil as much more than just a country of football, coffee, carnivals and Olympics. They see in the South American country humongous water resources like the mighty Amazon.
A consortium, led by China Three Gorges Corp, the world's largest hydropower producer, is working on a greenfield investment opportunity to build and operate Tapajos dam, an 8,000-megawatt power station in Brazil.
"I think we will be a strong contender when the bidding opens, since we have been building our presence there for many years," said Wang Shaofeng, executive vice-president of China Three Gorges International Corp, a Beijing-based subsidiary of CTG.
"Our involvement in the Brazilian projects comprises share participation in the beginning and direct control of operational assets in recent years, but we can do more and better, based on our experience," he said, referring to its construction of two hydropower projects in the region and the operation of four hydropower projects.
Last year, CTG, the builder and operator of the world's largest dam, won a concession auction to operate two Brazilian hydroelectric power plants, Ilha Solteira and Jupia, at a cost of $3.7 billion.
The deal, which closed in January, is CTG's biggest overseas so far. It also made CTG Brazil's second-largest private sector energy producer.
Lu Chun, president of the Beijing-based company, attributed the successful deal to timing and CTG's long-term efforts and cooperation.
"China is the world's largest hydropower operator with rich experience in terms of design, construction, technology and funding, so we have a competitive edge over our rivals at a time when Brazil is in need of foreign investment," he said.
In November, Brazil auctioned 29 hydroelectric power plants whose concession contracts were about to expire. The two hydropower plants for which CTG bagged 30-year concessions, are considered the best of the lot, with a capacity of 5 million kilowatts.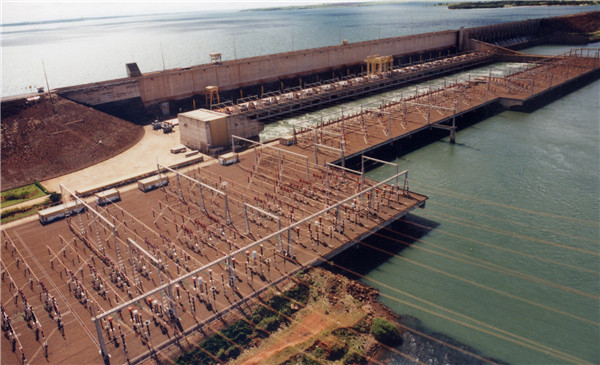 The Ilha Solteira hydroelectric plant on the Parana River near Ilha Solteira in Sao Paulo, which CTG won in a recent bidding to operate the Brazilian hydroelectric power plant.REN WEIHONG/CHINA DAILY
The concession period started in January. From next year, 70 percent of the electricity to be generated will be sold to the regulated market and the rest to the free market. The price will be adjusted annually to factor in inflation.
The concession, however, is not CTG's first foray into Brazil. In 2014, its Brazil subsidiary CTG Brasil bought a 50 percent stake in hydropower project company Jari, a 50 percent stake in another hydropower project company Cachoeira Caldeirao, and a 33.3 percent stake in local power company Empresa Energia Sao Manoel from Portuguese power company Energias de Portugal or EDP.
In 2015, CTG Brasil concluded two more merger and acquisition deals for a 49 percent stake in EDP's Brazilian wind assets and a 100 percent stake in two hydropower projects from TPI, a local player in Brazil.
The ongoing economic slump has caused Brazil to consider putting some of its quality assets on the block, in order to overcome stagflation and open up more investment opportunities in the power industry.
Chinese companies believe their investments in Brazil could help restructure and boost the local economy.
CTG has plans to build hydropower and wind projects in Brazil with total installed capacity of 3 million kW.
Lu said the company will use Brazil as a springboard to expand into neighboring countries such as Peru and Ecuador, which fall in the footprint of the "Belt and Road Initiative".
He was referring to President Xi Jinping's proposal to build the Silk Road Economic Belt on the Eurasian continents and the 21st Century Maritime Silk Road.
"We wish to use local teams, operate locally and earn returns on local investment," he said. Lu said China's "Belt and Road Initiative" offers more opportunities to not only hydropower companies but equipment manufacturers.
CTG's overseas projects have a total installed capacity of more than 11 gW. The company plans to raise that figure to 25 gW over the next several years.
The overseas target almost equals the full capacity of the Three Gorges Dam hydroelectric project on the Yangtze in Hubei province.
Hu Siyi, former vice-minister of water resources, said China, the world's largest hydroelectricity producer, has built and operated half of the world's hydropower stations. Thus, China is able to help other countries to meet their growing demand for energy.
"Water resources as a fuel are not reduced or used up in the process. I think it (hydropower) should play a bigger role in the world's energy mix to meet the most pressing environmental need of our time-reducing carbon emissions," he said.