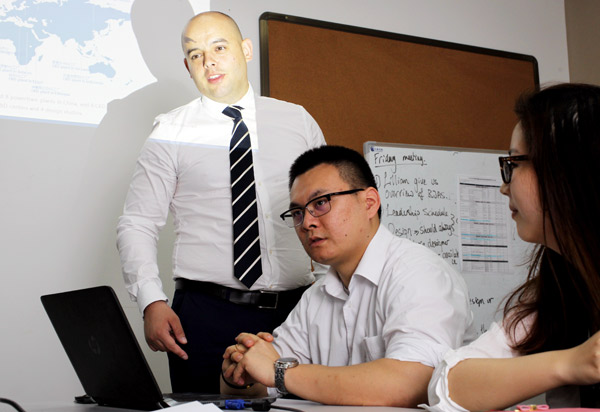 Ashley Sutcliffe (left), public relations manager at Zhejiang Geely Holding Group, one of China's biggest private carmakers, holds a discussion session with his colleagues in Hangzhou, capital of Zhejiang province, on Friday. GAO ERQIANG / CHINA DAILY
Demand for skills grows as government pledges to introduce more imported talent for pillar industries
Chinese employers with a shortage of highly skilled workers have opened their doors wider to foreign talent.
The trend is being spurred by a new government manpower policy that encourages companies to hire directly from the international market.
Major international headhunting companies have benefited from the change, seeing robust growth in such business in recent years, a China Daily investigation has found.
Spring Professional, a subsidiary of leading human resources company Adecco Group, has operated on the Chinese mainland for more than 10 years.
It says that in the past three years, its annual revenue in China has grown by between 70 and 100 percent, thanks to the growing demand from Chinese companies for international staff.
"Three years ago, 80 percent of our business was to find candidates for multinationals in China. Now, more than 60 percent of our business has shifted to searching for international candidates for Chinese employers," said Xiao Lirong, director for Beijing and Shanghai at Spring Professional.
"Besides the private sector, even State-owned enterprises have become our clients," she said. State companies have traditionally relied on government agencies to introduce overseas talent.
Robert Parkinson, CEO and founder of RMG Selection, another international human resources company that focuses on China, said its annual placement for foreigners in Chinese companies has doubled in four years.
Parkinson said the demand for skilled technical foreign talent is growing as China moves from low-cost manufacturing to more diversified innovative business.
"In the past, foreign talent we searched for focused on marketing or selling. Now, Chinese companies increasingly need technical experts," Parkinson said, adding that this business will continue to grow.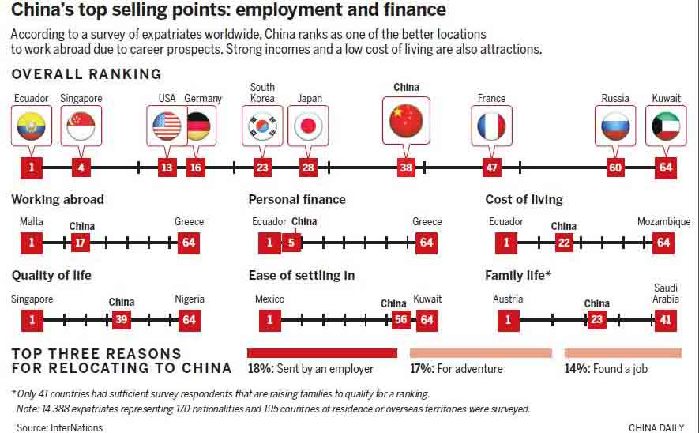 Business for international recruiters is poised to continue soaring after the government pledged to introduce more overseas talent for pillar industries during the 13th Five-Year-Plan (2016-20), with "the market playing the leading role", instead of government-initiated recruitment.
China targets top overseas talent, including professionals in innovation, breakthrough technologies and new industries, as well as scientists in strategic sectors. The government has simplified the visa application process to hire them.
One example is new-energy vehicles. Last year alone, China manufactured 379,000 such vehicles, a fourfold increase year-on-year, which has demonstrated the shortage of overseas talent.
Audrey Deng, a recruitment manager with more than eight years' experience, said six automobile clients have created more than 80 new positions, mainly for leading experts from countries including the United States, Germany and Japan.
Christine Raynaud, Greater China CEO for Morgan Philips Group, a global recruitment company, said that despite the growing demand, international recruitment is difficult for local and foreign companies in China.
"Chinese firms and brands are internationalizing to compete in global markets, and this means they have to attract and integrate foreign experts on critical projects," she said. "However, the traditional recruitment model is 'too local' in terms of sourcing and recruiter experience."
Raynaud said the internet could speed up the screening process, but when it comes to the final interview, only professional human resources experts can judge whether candidates are suitable.
Backed by international resources and professional experts worldwide, recruitment firms are expected to bridge the gap.
Deng said, "We have branches in many countries that can help Chinese employers to expand their channels to search for international candidates."