DHL Supply Chain CEO hopes growth can enable company to support industry development
It's rare to get an interview these days with Zou Yin, the low-key chief executive of DHL Supply Chain in China. He doesn't grant many. He jokes that only executives on the lookout for a new job offer interviews.
Zou's quick responses to questions reflect a deep understanding of the logistics business, and that he is confident about its prospects.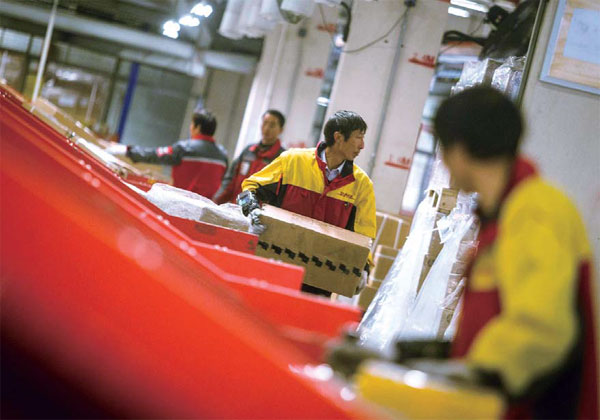 DHL supply chain in China is targeting Chinese firms in addition to multinationals. Photos Provided to China Daily
He punctuates his answers with Western humor, probably a result of his long experience in Germany, while the two paintings in his office indicate his penchant for Oriental aesthetics, particularly traditional Chinese culture.
One shows mountains under a blue sky, while the other depicts a vibrant ocean. They symbolize support from the back and opportunities ahead, Zou says.
But it would be folly to attribute the success of DHL in China in recent years to Zou's office feng shui. His market knowledge and unique management style have been contributing factors.
"The logistics industry is highly competitive. There is no secret recipe. As long as you have good people and can maximize their value, you will win," he says.
For Zou, the maturity of his team is his greatest achievement so far. He does not believe in rigid control of employees. Instead, Zou adopts a loose management of people.
He says he never expects a young person to work for DHL his whole life. What he wants to see is that the employee's value rises during his time with the company.
At DHL Supply Chain, part of the German group, hierarchy remains important. This means people at different levels need to work within certain boundaries.
But at its Shanghai office, Zou's door is always open. As long as an employee has an idea, he or she is welcome to walk in at any time. "I always feel like I'm a public servant to my colleagues, that I need to solve their problems."
Logistics is traditionally seen as a low-profile industry, so it's not easy to attract top talent.
"I want to change this. We want to grow to a size by which we can support industry development, to make the industry attractive to candidates."
Steady growth is a priority, he says. By 2020, the company aims to have another six logistics centers, in Guangzhou, Hangzhou, Wuhan, Shenyang, Shenzhen and the Shanghai Free Trade Zone, bringing its total national warehousing capacity to 1 square kilometer.
So it is targeting business not only from existing customers, mostly multinationals, but also Chinese firms, Zou says, adding that most of its customers have been clients for more than 15 years.
"Our partnerships probably last longer than the average marriage in China."
In recent years, DHL in China has seen many of its customers - particularly those in technology and automotive industries - move up the value chain.
"We've also seen domestic manufacturers, which are also leading brands, move up the chain. They are starting to offer really good brands and premium products. They are upgrading their manufacturing capabilities. So we're adding value to their integrated supply chain operations, particularly for high-end manufacturing industries in the electronics business."
Zou says he recently chatted on the subject with a senior vice-president of a top Chinese telecommunications company in Shenzhen. It appears Chinese manufacturers are changing their supply chain model, he says.
From focusing on a low-cost supply chain model, they are looking for alternatives in the market. They want to hit the ground running in all markets with a new product, he says. They are willing to invest more in the supply chain to ensure their products reach consumers in time.
"The Internet helps bridge the gap between demand and supply. So more manufacturers have to change their supply chain model and build it according to demand."
shijing@chinadaily.com.cn