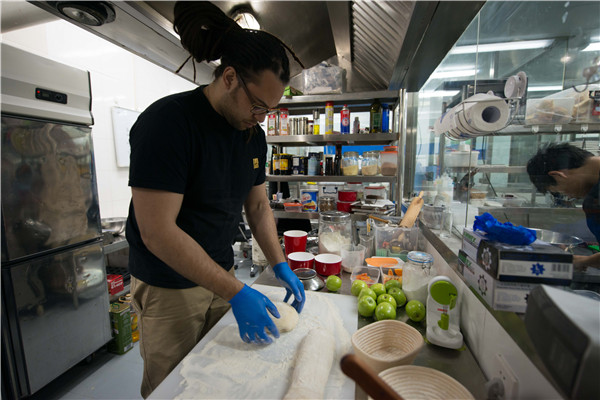 Baker Jonathan Ellis experiments with recipes at the shared kitchen facilities of The Hatchery in Beijing.BRUNO MAESTRINI/CHINA DAILY
With demand booming for more diverse types of international cuisine in China, British-born Stewart Johnson and New Zealander Alex Worker developed a business platform to help innovative food startups to take off in the Chinese capital.
In February long-term expats inaugurated The Hatchery, Beijing's first foreign-run culinary incubator, to allow food entrepreneurs to test and validate their dining concepts in the Chinese market without assuming prohibitive costs.
China's food and beverage industry is expected to keep a steady growth in the next years, due to increasing per capita disposable income.
From 2015 to 2020, China's food and beverage industry is expected to enjoy a compound annual growth rate of around 8.8 percent, according to Neil Wang, partner and China president of the consulting firm Frost & Sullivan.
Last year, the value of China's food and beverage industry reached 7.0 billion yuan ($1.08 billion).
Despite the attractive growth potential of the industry, the high costs of starting a food business, including the expensive rental fees of commercial spaces and the difficulties of obtaining licenses, have prevented foreigners from being more active in this growing market.
For this reason, the culinary incubator located in Beijing's central district of Sanlitun provides business counseling and access to a shared kitchen facility to food startups until they can stand on their own.
The Hatchery either charges low fees for the use of its facilities or offers its services, including financing, in exchange of founder's equity in the business, with food entrepreneurs still retaining control of the concept.
"We are similar to a venture capital firm, because a lot of the restaurants that we will help develop will become independent and we will retain a share in them," explained co-founder Johnson.
Since its launch, 10 different entrepreneurs have shown interest in using the platform but only two have actually used it so far.
In order to identify which business ideas can gain a place in Beijing's food scene, The Hatchery has established a five-gate process.
In the initial stage, entrepreneurs bring an innovative food concept and a business plan to develop it.
Through gates two to four, food entrepreneurs validate demand for their concepts and perfect their business operating model.
The Hatchery calculates that most businesses would only need 50,000 yuan and five months to pass through the first three gates.
The last step of the process consists of replicating the business outside the platform.
"We are building partnerships with different established food operators in Beijing such as the Bookworm and the coffee chain Café Flat White, so that food entrepreneurs can extend the incubation process after gate five in those facilities," pointed out Johnson.
In the next six months, The Hatchery expects to launch six different food and beverage businesses, including four restaurant concepts and two food products like a range of high-end bottled cocktails.
Baker Jonathan Ellis, a native of Chicago, has been the first food entrepreneur to use the platform to realize his dream of opening Beijing's first American style bakery.
Three years ago, Ellis won a baking competition in Beijing but he has been struggling ever since to find a partner to start his business.
"In the last three years, this has been the best opportunity that I had to work on my business project", noted Ellis. "If I had done this by myself, I would have spent a lot of cash and wouldn't have had so much time to focus on the cooking." The baker is currently testing demand for his food, working on costs and experimenting with recipes suitable for local tastes.