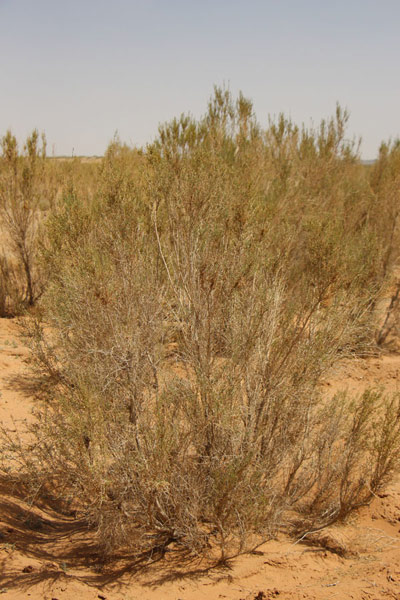 A suosuo tree can stablize 10 square meters of sand in the desert, May 16, 2016. [Photo by Ma Chi/chinadaily.com.cn]
Walking into Hu Kaijing's brick house, a pair of swallows twittering on the ceiling surprised me. Hu said it is thanks to a plant called suosuo that I could see the migratory birds at his home.
Hu is a herdsman in Suhaitu Gacha (Gacha means village in the Mongolian) in Alax League in west Inner Mongolia autonomous region. The village is bordered by the Tengger Desert to the south and Ulan Buh Desert to the east.
"In the 1980s when I was young, this (Suhaitu) was a prairie," Hu said. "But the grasslands degraded in the 1990s and gradually turned into desert due to overgrazing. Sandstorms became a headache for us."
"As a result of the deteriorated grasslands, we herdsmen had to buy grass from outside to feed the livestock and thus the costs were very high," Hu said.
He once possessed more than 500 sheep, but as the grasslands degraded and costs for raising herds rose, Hu was forced to quit raising livestock and make his living through other means. He became a truck driver.
The worsening environment also took other tolls. "As the environment deteriorated, the number of animals, such as the swallow and rabbit, decreased," Hu said.
The predicament facing Suhaitu is not unique in China. By 2014, one fourth of the country's lands were desertified areas - mainly in Xinjiang Uygur autonomous region, Inner Mongolia autonomous region and Gansu province in Northwest China, according to statistics from the National Forestry Bureau.
As part of a national effort to reverse desertification, Alxa League government in 2002 implemented a policy that bans grazing to recover grassland.
In 2010, Hu started planting suosuo, a plant that is commonly seen in the desert.
Suosuo's roots can grow two or three times the length of its parts above ground, which enables it to reach water deep underground, said Li Zhiyuan, a desert prevention and control expert.
He said one suosuo tree can stablize 10 square meters of sand.