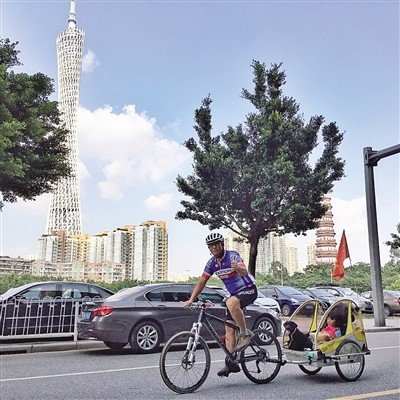 Qi Hailiang cycles with his daughter and dog, who sit in a special made carriage chained to the back wheel of his bicycle. [Photo from Yanzhao Metropolis Daily]
A businessman from North China's Hebei province with his 4-year-old daughter and a dog cycled along the border line of China, covering 13,000 km through about 10 provinces.
"We cycled all the way southwards from my hometown Luanxian township of Tangshan, " said Qi Hailiang on May 9 at a hostel in Lhasa, capital of Southwest China's Tibet autonomous region.
Qi has undertaken his trip for eight months. He began on Sept 4, 2015, and plans to continue the journey to Northwest China's Xinjiang Uygur autonomous region.
"We cycle 100 kilometers every day on the plain, but it drops to 60 to 70 kilometers a day in the mountainous areas," said a suntanned-skin Qi.
"The conditions of road, weather and accommodation decide how far we go."
For the convenience of carrying his daughter and dog, he made a special small carriage for his daughter and dog, which is chained to the back wheel of his bicycle.
"We did not put a time limit on the trip", he said.
During the journey, they went back home three times, one of which is before he cycled to Southwest China's Guangxi Zhuang autonomous region and Yunnan province.
"There are many mountains there, I was afraid that I could not struggle through and therefore was unable to look after my daughter."
The reason he travels this way is that he wants to spend more time with his daughter. Qi was too busy with his business to accompany her.
Although his daughter has reached the age of kindergarten, Qi is not in hurry. The trip will continue until his daughter turns six.
"She will spend 10 years in school. It's a long time. It doesn't matter if she uses her pre-school years to travel."