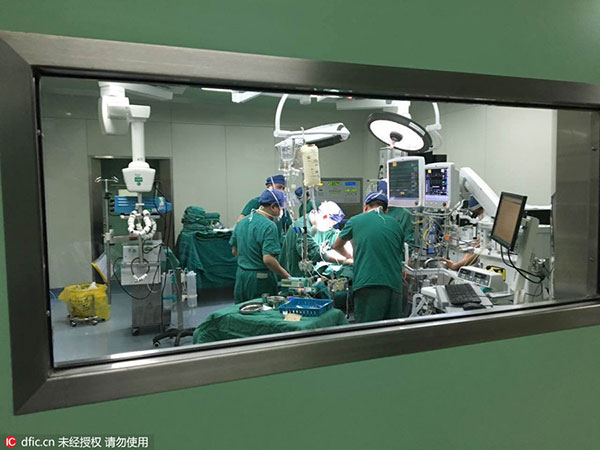 Doctors transplant the heart from a donor in Hangzhou, East China's Zhejiang province, to a patient in Wuhan, Central China's Hubei province on May 8, 2016. [Photo/IC]
China is to increase the number of organ transplant hospitals from 169 to about 300 by 2020, according to the chairman of the National Organ Donation and Transplantation Committee.
Huang Jiefu said the increase will enable the nation to become the world leader in terms of the number of lifesaving procedures performed.
Huang, the former deputy minister of health, was speaking on Sunday at an annual awareness-raising event held by the National Health and Family Planning Commission and the Red Cross Society of China in Wuhan, the capital of Hubei province.
In 2010, the two organizations set up China's public organ donation system in an attempt to end long-term dependence on death row inmates as major organ donors for transplants.
By February, 6,238 Chinese citizens had donated organs after death, saving 16,827 patients, according to the Red Cross.
"China has achieved a transition from relying on executed prisoners as a major source of organ donations," Huang said. "To improve access to the procedure, we're opening more transplant centers, and will have about 300 by 2020."
China currently has 169 organ transplant centers, performing about 10,000 surgeries annually. However, there are 30,000 patients awaiting transplants each year.
In contrast, the United States has more than 300 transplant centers, performing the most transplants worldwide.
Ye Qifa, director of the transplant center at Central South University in Wuhan, said Chinese organ transplant surgeons are highly capable but in short supply.
Huang said more surgeons are being trained, and with increasing organ donation awareness, "we'll open more centers to save more lives".
The number of organ donations will be made public on the website of the China Organ Transplant Development Foundation.
"Fairness and transparency are crucial to encouraging and sustaining public organ donations," Huang said.
But he also said cost is a major barrier for people wanting access to transplants. As a result, the health authority is carrying out research to initially cover kidney transplants under health insurance.
He said that in China a kidney transplant costs more than 300,000 yuan (about $46,000) and a liver transplant about 630,000 yuan.