Efforts to focus on how local authorities live up to promises and tackle the scourge of pollution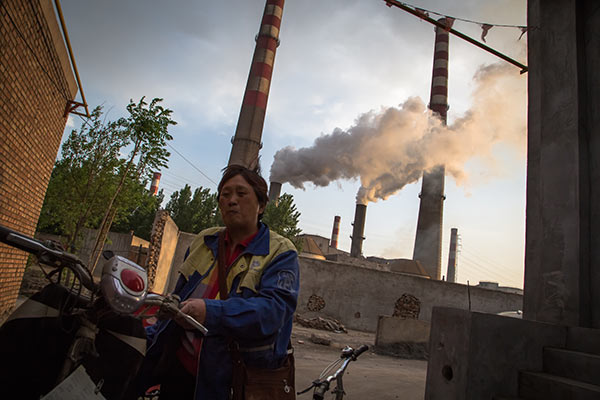 A resident reacts to the air in Handan, Hebei province, in April. The city, known for its highly polluting industries, such as steel, is facing an industrial transformation. Provided To China Daily
Environmental inspections by the central government have been given more power and increased importance, and will include all provinces, according to a Chinese environmental official.
The Ministry of Environmental Protection will be China's second national authority, after the Central Commission for Discipline Inspection, to have the power to send inspection teams and hold discussions with provincial leaders.
Fourteen more provinces will be subject to central government inspection this year after a pilot mission was completed in heavily industrialized Hebei province, Liu Changgen, head of the National Environmental Protection Inspection Office, said in a web interview.
Plans for the follow-up inspections are awaiting approval from national authorities, so it is not yet clear when they will begin, according to sources close to the matter.
Findings from the Hebei inspection disclosed on Wednesday showed many problems, ranging from rapid ecological degradation to ineffective reinforcement of laws and regulations.
Liu said the central-level inspectors held discussions with all top provincial officials during their monthlong mission to Hebei, which accounts for nearly 25 percent of the nation's steel output and is among the most heavily polluted provinces.
Surrounding Beijing, Hebei had five of China's 10 cities with the worst air pollution problems in the first quarter of this year, according to the Environment Ministry.
Liu said that during the inspection, his colleagues and he received more than 100 calls a day from Hebei residents telling them of local pollution problems.
He said the environmental protection inspection teams will prioritize efforts to review how local authorities have met their promises and solved problems the inspectors find.
Liu said the Environment Ministry has formed a talent pool of more than 120 people devoted to the inspections, and they will be sent randomly to targeted areas. Such inspections will cover all provincial areas every two years.