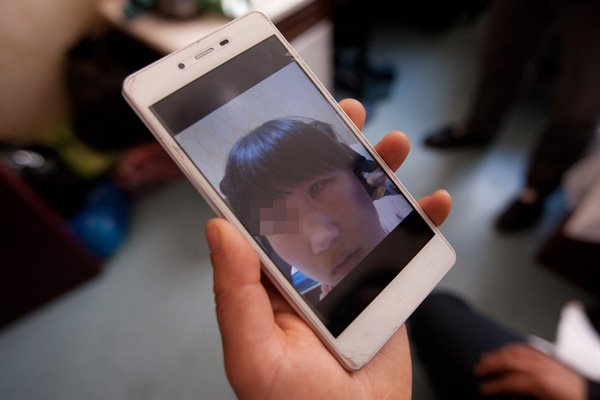 A parent shows a photo on a mobile phone of a student who claims to have been exposed to toxic substances at her school in Da'an city, Northeast China's Jilin province, on May 10, 2016. [Photo/VCG]
Claims made by students in Jilin province, who said they were poisoned after being exposed to toxic substances at their school, were called into question on Tuesday when the local government released what it said was proof the school was free of toxins.
The government in Da'an city released a statement on Monday saying an indoor environmental test conducted by a professional company on Sunday proved the student dormitory at Xin'anli Township Junior High School was safe.
The move followed a claim by 15 students that they had been poisoned after living and studying at the facility since October.
The claims went viral online on Monday after the students collectively posted on Weibo, China's major micro-blogging platform, that they had been diagnosed with illnesses related to formaldehyde poisoning. They cited symptoms including nausea, coughing and eye infections that they said were diagnosed at the First Hospital of Jilin University.
Students also uploaded photos showing CT scan results from the hospital, and a close-up of a female student's bloodied eye.
They claimed they had been exposed to formaldehyde, a colorless and highly toxic gas that can cause multiple health problems, and even cancer if exposure is long-term.
However, the Da'an government said the dorm was also tested and found to be toxin-free in October 2014, one year after its construction and before the students moved in.
Bao Wanguo, director of the infectious disease department at the hospital, told China National Radio on Tuesday that the hospital had never diagnosed the students as suffering from formaldehyde poisoning.
None of the students or parents responded to interview requests on Tuesday afternoon.