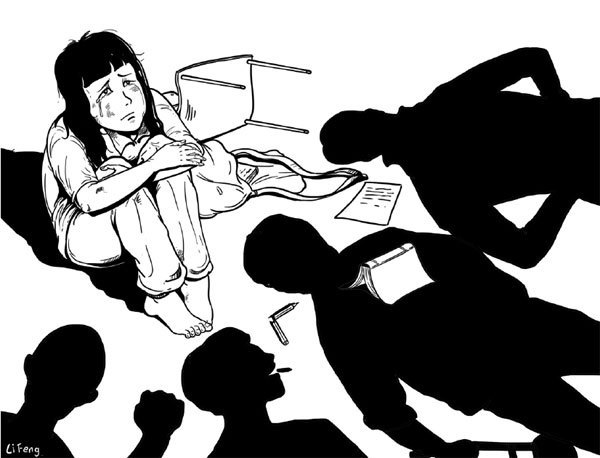 [Cartoon by Li Feng/China Daily] 
The State Council has launched a campaign to tackle school bullying, the Ministry of Education announced on Monday.
The Education Supervision and Guidance Committee under the State Council has sent a notice to local education bureaus, the ministry said on its website.
The campaign aims to curb school bullying in primary and middle schools, including physical and verbal bullying. Cyberspace bullying will also be targeted.
The campaign covers all primary and middle schools across the country, including middle vocational schools.
Campus bullying is a serious issue in Chinese schools. Last year, a boy was stabbed to death by three classmates in Guangdong province. Also last year, a video clip showing schoolgirls slapping, kicking and beating another schoolgirl in Jiangxi province went viral online, triggering a widespread discussion of campus bullying.
According to the notice, an inspector will be responsible for monitoring all schools in his or her school district. The inspector is required to report any bullying to the school and to the local education inspection department.
Schools are required to invite public security and justice departments to provide anti-bullying education.
Procedures to prevent and handle campus bullying should be established, and the responsibility of school staff members should be clarified, the notice said.
It also called for improving support programs to prevent bullying, including the use of counseling. Schools are also urged to start a hotline for students to report campus bullying.
Additionally, staff members should be appointed to discover and investigate any campus bullying. If a crime is involved, the staff should report it to the public security department and cooperate with officers in filing a case.