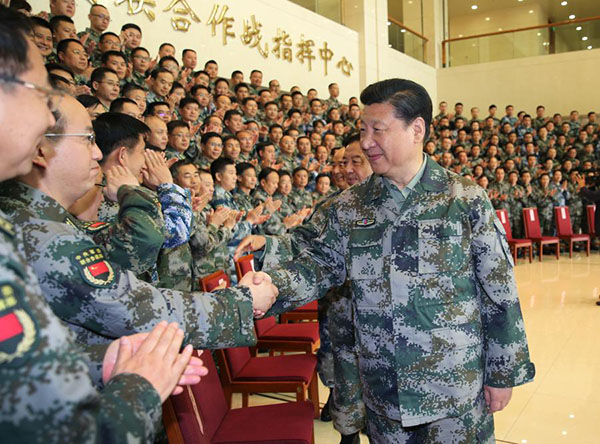 Chinese President Xi Jinping inspected the Central Military Commission (CMC) joint battle command center in Beijing on April 20, 2016. [Photo/Xinhua]
Termination of the Chinese military's commercial activities will strongly lessen incentives for military-related corruption while consolidating the PLA's combat capability, military experts said.
"Some commercial fields engaged in by the People's Liberation Army units are actually prone to corruption and other misconduct. The corruption case of Gu Junshan and those of other senior officers were closely connected to their involvement in businesses," said Senior Colonel Gong Fangbin, a political education researcher at PLA National Defense University, referring to Gu, former deputy head of the PLA's logistics authority, imprisoned in a embezzlement and bribery case.
"The military's involvement in the commercial sector has also aroused suspicion about whether it properly uses defense funds," he added. "Moreover, there have been concerns that the PLA would use its advantages in a race for profits and overpower civilian competitors."
The closure of the PLA's businesses would focus all of its concentration on honing combat readiness, he said.
On Saturday, the PLA and the Armed Police Force selected 17 units to be the first to close their commercial activities such as housing rentals, medical services and hospitality.
The move came after the death of Wei Zexi, a young university student who received experimental cancer treatment at a military hospital in Beijing, triggering a huge public outcry.
General Zhao Keshi, head of the Central Military Commission's Logistical Support Department, said on Saturday that the chosen units are tasked with exploring effective ways to shut down businesses.
In March, the Central Military Commission ordered the PLA and the APF to end all commercial activities within three years. It told units to stop signing new contracts and to negotiate with civilian clients to try to cancel existing ones.
Gong said commercial activities usually exist in military hospitals, performance groups and publishing houses, major targets of the ongoing troop cuts announced by President Xi Jinping in September.