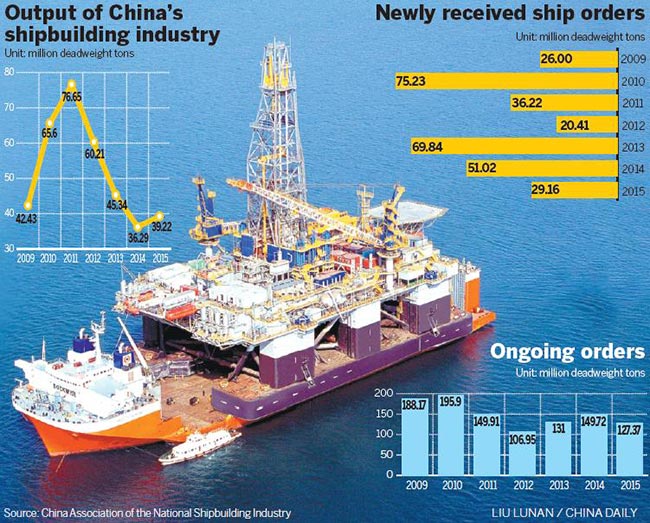 State-owned CSIC says competition in the industry will remain fierce
State-owned China Shipbuilding Industry Corp, one of the country's two major shipbuilding conglomerates and the primary contractor for China's naval force, will focus on 10 areas to integrate its civilian and military businesses over the next five years, the company's president said on Wednesday.
Sun Bo said CSIC will focus on offshore engineering products, power, electronic information and intelligent equipment, mechanical and electrical equipment, underwater defense, new energy, new material and environmental protection products, healthcare and modern services.
In the long term, Sun said, the group will focus on developing commercial products such as equipment needed for offshore oil exploration, storage batteries, law-enforcement vessels, very large crude carriers and supersized container ships to further diversify and adjust its pillar products.
With a workforce of about 150,000 employees, CSIC operates more than 50 industrial subsidiaries and 30 research institutes, including Dalian Shipbuilding Industry Co, Qingdao Beihai Shipbuilding Heavy Industry Co Ltd and China Ship Research and Development Academy. It has exported various types of vessels to more than 70 countries.
China State Shipbuilding Corp, the other State-owned conglomerate, also has more than 50 subsidiaries and research institutes.
While the profitability of many Chinese shipyards was squeezed by low technical content, cumbersome financing situation and blind expansion, CSIC devoted more of its resources to high-end vessels and non-marine products over the past half decade. In 2015, the group had sales revenues of 226.08 billion ($34.82 billion), up 12.1 percent on a year-on-year basis.
Last month, the company signed a contract for four 400,000 deadweight-ton VLCCs with ICBC Financial Leasing Co, China's largest financial leasing company, to jointly ensure China's energy security.
Sun said the competition in the shipbuilding business will be fierce, especially at a time when the whole industry is suffering from falling demand.
Overcapacity is another problem. More than 30 major large-scale shipyards went bankrupt over the past two years, according to the Beijing-based China Association of the National Shipbuilding Industry.
"China has excess capacity in building conventional ships, but not in complex and high value-added ships," Sun said. "Under such circumstances, diversifying business focus and adjusting product structure certainly are key elements."
Eager to maintain the country's competitive edge, the government also encourages domestic shipyards to develop vessels in areas such as security, science and research and engineering.
To maintain a healthy cash flow, CSIC established four financial companies including CSIC Capital Co Ltd and injected more cash into CSIC Finance Co Ltd last year. It also set up an industrial fund with an initial capital of 10 billion yuan to further assist its business operation.
The proportion of CSIC's non-marine products now exceeds its total business operation by more than 55 percent.
"If you look at the global market for ships, you can see declining signs in the low-end ship market everywhere," said Bao Zhangjing, director of the Beijing-based China Shipbuilding Industry Research Center.
"Capable shipyards have already shifted their core business to maritime engineering and other fast-growing businesses such as new materials, mechanical and electrical equipment, because, apart from higher profits, there is also less competition as not many shipbuilders are able to produce these sophisticated products," said Bao.