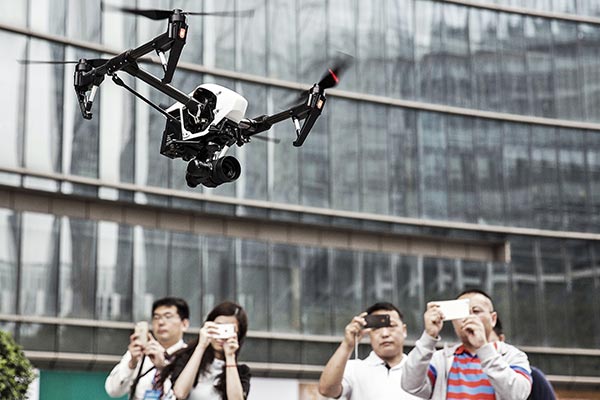 A DJI Inspire 1 Pro drone is flown during a demonstration at the DJI Technology Co headquarters as passers-by take pictures in Shenzhen, Guangdong province.[Photo/Agencies]
The fast-growing consumer drone industry should not copy the model of personal computer and smartphone businesses where one chip company controls nearly the whole market, said a senior official from DJI Technology Co Ltd.
"If only one company controls nearly the whole market with excessively high royalty payments, it will harm technology innovation of the whole industry," Shao Jianhuo, vice-president of DJI, told China Daily.
Shao's comments came as chipmakers Intel Corp and Qualcomm Inc are both expanding into drones to diversify away from their respective core markets of PC and smartphone chips.
Intel, the world's largest PC chipmaker, poured $60 million into the Hong Kong-based drone maker Yuneec International Co last year. Qualcomm, the No 1 mobile chipmaker worldwide, is developing the next generation of power-efficiency processors used in drones and self-driving vehicles.
Sales of commercial drones in China are set to near 4 billion yuan ($626 million) this year, a 70 percent growth compared with a year earlier, said research firm Analysys International. The demand will break 11 billion yuan by 2018, it said.
Ren Ruichao, an analyst from iResearch Consulting Group, said although Chinese aviation watchdogs are yet to implement clear regulations on the use of civilian drones, the demand will increase anyway.
When asked whether DJI, which controls 70 percent of the world's civilian drone market, would develop its own chips for drones, Shao said: "We will keep a close eye on chip technology development and cooperate with various chip companies."
Shao said DJI has no plans for public listing for the time being and product development is the top priority.
Shao said a recent Bloomberg report that DJI would share all data of its drones with the Chinese government, which raised privacy concerns overseas as 80 percent of DJI's drones are for exports, is not accurate.
"It is required by aviation regulatory departments in China that aerial vehicles must report its flight records, such as location, altitude and speed, for safety concerns. But it is up to customers to decide whether to share their pictures and video shots publicly. We will not store any private information," Shao said.
DJI's sales exceeded $500 million in 2014, according to media reports.