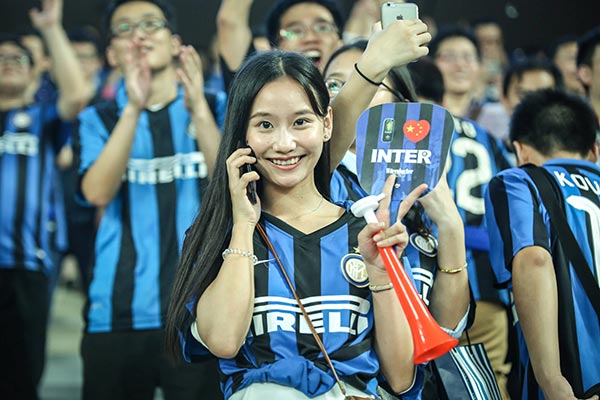 An Inter Milan fan poses at a soccer game between Real Madrid and Inter Milan in Guangzhou. ZHOU NAN / FOR CHINA DAILY
Ruud Gullit, Van Basten and Roberto Baggio, these are household names for diehard soccer fans. They were also my childhood heroes, through whom I came to acknowledge Italian soccer powerhouses AC Milan and Inter Milan.
At a time when entertainment of any kind was scarce and live sports broadcasts not available, videoed soccer matches of these Italian top clubs gave me quite some enjoyment and a good excuse to avoid household chores.
Now the two elite clubs in Milan are subjects to possible acquisition by Chinese conglomerates, such as e-commerce giant Sunning Group. That really stuns me.
Suning, which owns Jiangsu Suning football club, is widely reported to be in discussion for a 20 percent stake acquisition of Inter Milan, and is busy exploring more options of partnership, including co-branding and training camp cooperation. AC Milan's potential buyers are said to be Media Group, Baidu Inc and now Jack Ma's Alibaba Group.
As a former sports journalist, I was not surprised to see sports-related businesses fully blossom in China.
But what impresses me most is the fact that local companies are acting so quickly to tap European soccer powerhouses, even the legendary AC Milan and Inter Milan.
If people have any idea of the backdrop of the possible buyout, they won't be surprised at all.
In sports critics' eyes, cash-cow companies' unprecedented strong interest in European clubs may stem from the ambition heralded by the country to further spur soccer and the sports industry as a whole.
China's top economic watchdog and sports administration issued long-term guidelines this month, highlighting the goal of the nation to become a "top-class football nation" by 2050.
In addition to a magnificent road map to fulfill the country's soccer power ambition, the plan also goes into details such as the per capita soccer fields and numbers of soccer academies and reserve players.
If successful, I would foresee these targets can create a large talent pool from which top footballers can be cultivated and selected for national squads.
I witnessed the rise of China's professional soccer league. But the performance of the national team has hardly met my expectations.
Two decades ago, China's market-based and professional-oriented soccer league reform took off, bringing in market operations and private investment.
I have to stress that in addition to a market-oriented mechanism and global expertise and assets purchased, young Chinese footballers have to be brought up and cultivated with the merits of dedication, self-discipline and being professional.
In my eyes, a successful combination of market capital and soccer education is Chinese billionaire Wang Jianlin's acquisition of a 20 percent share in Atletico Madrid. Under the agreement, Wang's Dalian Wanda planned to open several training camps in Spain for Chinese talent cultivation with the help of Atletico Madrid.
I wish more similar deals aiming for the long-term development of the sport can be hammered out.
Also in my opinion, the Chinese Football Association used to enjoy too much power of resource allocation and rule setting, which obviously dampens the enthusiasm of private capital to join in the game.
This problem also needs to be addressed, perhaps under the new national soccer development plan.
The national soccer guidelines are supposed to give more preferential policies to enterprises related to soccer business. And renowned clubs, sponsors and service providers are encouraged to get listed on the stock market and issue bonds.
These are very positive signs for the sport and I hope the guidelines can be fully implemented to give clubs and company sponsors more say within the industry to have more young talent trained, more clubs marching overseas and no matches manipulated at all.