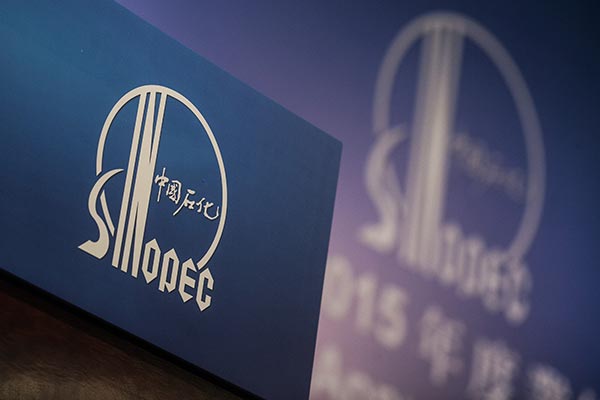 A China Petroleum & Chemical Corp (Sinopec) logo is displayed on a podium at a news conference in Hong Kong, China, on Wednesday, March 30, 2016. [Photo/VCG]
BEIJING - Oil giant Sinopec announced on Thursday that its net profits had surged in the first quarter (Q1) of the year.
In the first three months, Sinopec saw its net profits (unaudited) grow 206.8 percent to reach 6.67 billion yuan ($1 billion), a huge improvement over an 84.6-percent drop logged in the same period last year.
The company's Q1 revenue grew 153.4 percent to reach 13.1 billion yuan, compared to a 79.2-percent drop seen in the first three months of last year.
Sinopec's stellar Q1 performance was partly due to the country's new policy on oil price adjustment, which aims to buffer the negative effects of violent fluctuations in international oil prices.
According to the updated oil price mechanism implemented in January, China will adjust the domestic prices of refined oil products when international crude prices translate into a change of more than 50 yuan per ton for gasoline and diesel over a period of 10 working days, except when international prices go below $40 or above $130.
Following the new policy, oil price adjustment occurred six times. The National Development and Reform Commission announced a price hike on Tuesday.
On Thursday, PetroChina and China National Offshore Oil Corp (CNOOC) also filed quarterly reports, which paled in comparison to Sinopec.
PetroChina, the country's leading oil and gas producer, reported profit losses of 13.78 billion yuan in Q1.
CNOOC, China's top offshore oil and gas producer, said its unaudited Q1 oil and gas sales revenue went down 30.7 percent in the first three months, without disclosing figures for profit growth.