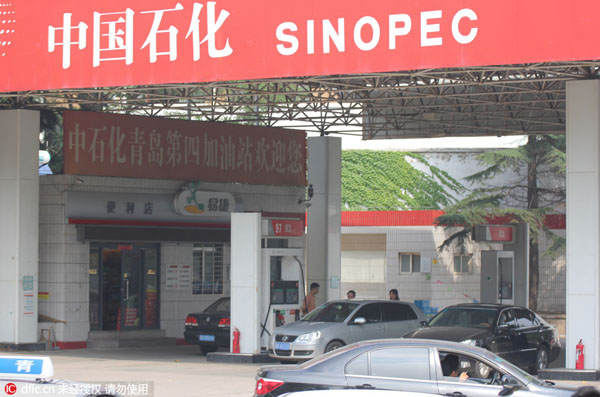 Cars are refueled at a gas station of Sinopec in Qingdao ctiy, East China's Shandong province, August 2, 2015. [Photo/IC]
NANNING - Chinese oil refiner Sinopec has put into operation a facility producing natural gas from an imported liquefied version of the fuel.
Located in Guangxi Zhuang autonomous region, the facility is the second of five liquefied natural gas (LNG) terminals planned by Sinopec as China works to raise the proportion of natural gas in its energy consumption and reduce greenhouse gas emissions.
The first phase of the facility in Beihai City can produce three million tonnes of natural gas a year, with most of the LNG to be imported from Australia, said Wang Zhigang, Sinopec senior vice president.
It can supply gas to 22 million families, improving the energy structure in southwest China and cutting carbon dioxide emission by 48 million tonnes each year, according to Wang.
Sinopec's first LNG terminal started operating in 2014 in the eastern city of Qingdao, and the company is building three others in Tianjin, Zhejiang and Jiangsu.