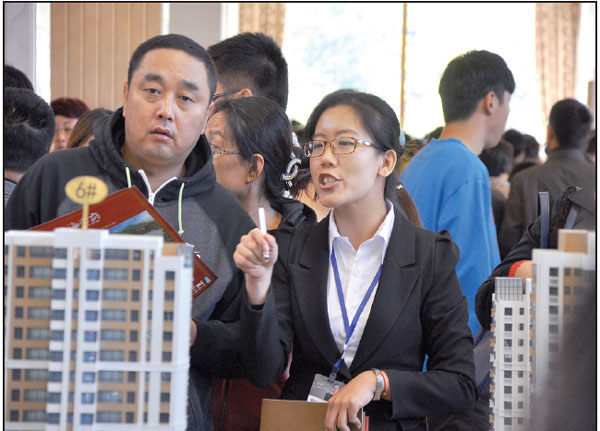 Potential homebuyers seek information at a property sales office in Rizhao, Shandong province. [Photo/CFP]
BEIJING - Major cities have begun to clamp down on loans for home purchase deposits to contain financing risks in a warming property market.
Beijing P2P Association asked its members, mostly online funding platforms, to stop issuing down-payment loans to home buyers and instead turn their attention to outstanding loans, according to an online document released on Tuesday.
The association will begin a special examination on the practice, the document said.
The statement follows similar moves in other cities, including the metropolises of Shanghai, Guangzhou and Shenzhen, after the central authorities put illegal home loans under scrutiny.
China's property market has shown signs of warming as central and local governments relaxed restrictions to resolve a property glut, however, this had the converse effect of prompting an unexpected wave of buying, with many even borrowing for down payments.
The practice increases risks to the market and financial system, said Pan Gongsheng, vice governor of the People's Bank of China, at a press conference on the sidelines of the annual parliamentary session last month.
"The central bank will work with other government agencies to rectify the problem," he added.
Yan Yuejin, an analyst at E-house China R&D Institute, said regulation was necessary to prevent speculative capital from entering the sector and stabilize market expectations amid a supply shortage in first-tier cities.
Despite stringent controls, down-payment "loans in disguise" were still available from some lenders as the property market remained in an upward streak.
Analysts advised the government to strengthen its monitoring and supervising efforts and stay alert of similar activities that make use of legal loopholes.
Deposit loans expose weakness in China's regulation on informal finance, and regulators should supervise financing platforms and manage the market access strictly, said Guo Tianyong, a professor at Central University of Finance and Economics.