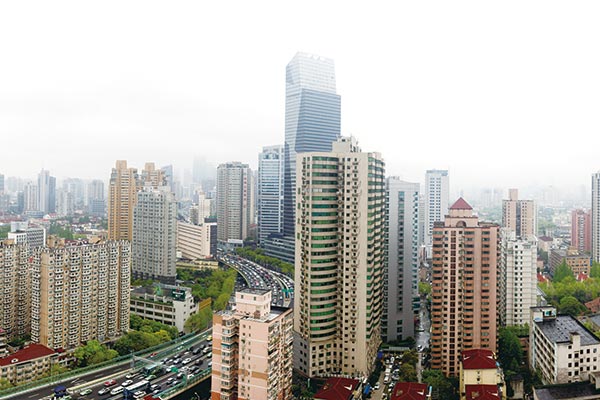 Because of purchasing limits in first-tier cities, property trades have risen rapidly in the neighboring cities of Wuxi, Jiangsu province, as well as Dongguan and Foshan in Guangdong province.
The release of cooling measures on March 25 has resulted in the home-buying frenzy being effectively tempered in Shanghai and Shenzhen, Guangdong province. The new policies include stricter home-purchasing requirements and the tightening of credit lines, according to industry experts.
The weekly trade volume of new homes in Shanghai fell from 785,500 square meters in the last week of March to 392,800 sq m in the first week of April, according to the property agency Centaline. Similarly, the volume in the secondary market fell from 536,900 sq m to 287,700 sq m.
Chen Lina, an analyst at Shanghai Sinyi Realty Agency and Consulting, said the daily trade volume of used homes fell from 2,008 units to 1,290 in the wake of the new measures. Furthermore, there was a 40 percent decline in the number of people looking for homes, and daily visits to properties fell by 36 percent.
According to data provided by SouFun, an online property agency, 652 new homes were sold in Shenzhen in the week starting March 28, a week-on-week decline of nearly 30 percent. The average trading price also softened to 49,621 yuan ($7,670) per sq m, falling 4.17 percent.
Beijing, the only first-tier city yet to announce new property measures, saw the transaction volume of new homes decline from 202,500 sq m to 187,500 sq m in the week starting March 28. However, more homes changed hands in the secondary market, with 762,700 sq m traded in the same week, compared with 737,900 sq m the previous week.
Zhang Dawei, chief analyst at Centaline, said the existing measures have been effective at taming the property market.
James Macdonald, head of research for Savills China, a global property agency, said the regulations need to be better enforced: "While price growth in Beijing's residential market has been strong, the capital already has relatively strict requirements for non-locals looking to buy homes. There could also be further restrictions on loans to second-home purchasers.
"The residential markets in first-tier cities need to be closely monitored, and the existing regulations need to be properly enforced. The sooner a comprehensive property registration and tax policy is in place, the better the results we expect. Also, the government should look at supply-side factors to ease the pressure on the existing housing stock," he added.
Property analysts said first-quarter data show that the residential markets in major second-tier cities are set to replace their first-tier counterparts as high-price centers.
"Transactions in hot second-tier cities have more than doubled, compared with the same period last year, with 4.1 million sq m of new commercial housing being traded in Hangzhou, Zhejiang province, year-on-year growth of 136 percent. In Suzhou, Jiangsu province, transactions rose 129 percent to 3.3 million sq m, and in Nanjing (also in Jiangsu), the transaction volume rose 122 percent to 4 million sq m," said Ding Zuyu, executive president of E-House (China), a real estate services company.
Because of purchasing limits in first-tier cities, property trades have risen rapidly in the neighboring cities of Wuxi, Jiangsu province, as well as Dongguan and Foshan in Guangdong province.
Home sales have also started picking up in some cities formerly haunted by high housing stocks, such as Tianjin, Jinan, Shandong province, and Ningbo in Zhejiang province.
Chen Zhongwei, head of research with CBRE Greater China, said the comparatively loose measures in second-tier cities in key economic areas will catch the attention of the market.
He added that home prices and trade volumes in these cities will rise in the next six months.
While China's annual economic growth is slowing from double digits to between 6 and 7 percent, it is natural for home prices to slow down to match the economic index, he said, adding that most lower-tier cities will suffer from oversupply.