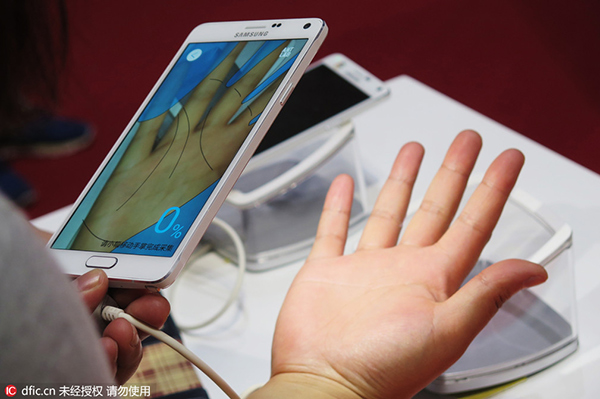 A user tries palm print recognition technology over a stand at the Beijing International High-tech Exhibition, May 13, 2015. [Photo/IC]
Elusiveness, a merit winning sweeping applauds by chatroom or BBS users, may be problematic, when more modern use of the internet such as online payment and education comes into sights.
To confirm you are who you claim to be and transmit the verification results in a secure way is what Online Biometric Authentication is built on, said the company's CEO at a briefing event on Wednesday.
The subsidiary of computer giant Lenovo Group announced that it will promote the adoption of a unified standard for online authentication, known as FIDO Alliance, in China this year.
As of this month, more than 150 types of digital products by companies including Qualcomm, Samsung, Huawei, Microsoft, Google and Yahoo have been recognized as FIDO-enabled, according to the non-profit alliance.
"The traditional way of entering password while checking it with a centralized database no longer fits current situation," said Chai Haixin, Online Biometric Authentication's CEO, adding that the single-element verification is neither secure nor reliable in the transmission process.
The FIDO, or Fast IDentity Online, proposes a two-step authentication standard instead where devices would first verify users via bio features such as fingerprint, iris and facial ID before sending only the verification results to the server, said Chai who is also head of FIDO China unit.
He noted that for service providers like online banking, peer-to-peer (P2P) lenders or access control reader, it's crucial to confirm users' identity, and the IT standard at the same time avoids transmission of personal bio info, as is prohibited by law.
Founded in 2012, the FIDO Alliance is jointly led by Lenovo Group and international counterparts, aiming to enhance online authentication.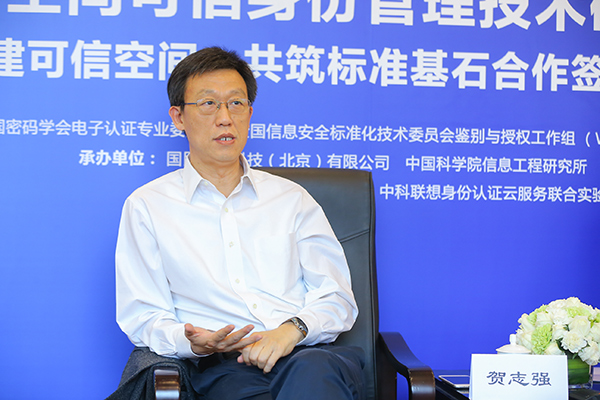 He Zhiqiang, senior vice president of Lenovo Group and head of Lenovo capital and incubator group, speaks at an industry briefing in Beijing, April 27, 2016. [Photo provided to chinadaily.com.cn]
Niche in internet finance
"There have already been cases of users' information being hacked. Beyond compensation, the solution lies in promoting security," said He Zhiqiang, head of Lenovo capital and incubator group and senior vice president of Lenovo Group.
He refers to the FIDO Alliance and Online Biometric Authentication as Lenovo's "footprint" in China's booming internet finance sector.
The country has seen an explosive growth of online payment, with last year's volume exceeding 14 trillion yuan ($2.15 trillion), about four times of that in the US, according to data by the UnionPay.
"We will work with regulators including the central bank on devising standards for online authentication," said Chai, in response to the year-end plan. "Expanding FIDO adoption in China is part of the goal."
Chai reckoned FIDO's partner list still misses one major smart device brand, that is Apple. "We are in talks with Apple," he said, adding that Windows 10 is expected to be FIDO-enabled, and same with web browsers under the W3C starting from next year.
The showcase comes after Lenovo announced a organizational revamp earlier the month, which promoted its venture capital unit to an equal position with its core personal computer and mobile businesses.
The security solution provider Online Biometric Authentication is the second subsidiary Lenovo incubated.