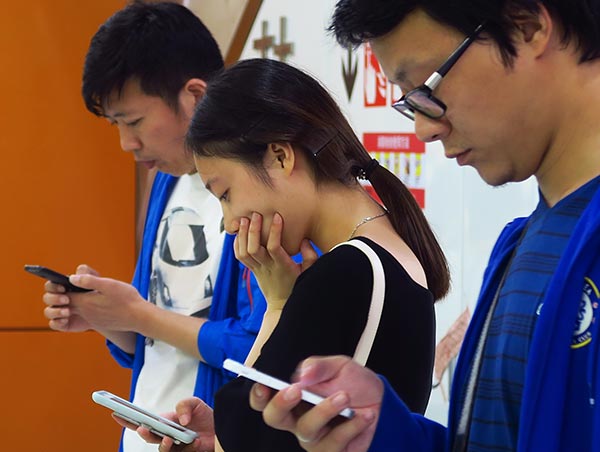 Digital readers in Ningbo, Zhejiang province. A recently issued whitebook showed that the number of digital readers had reached 296 million in China by the end of last year.[Provided to China Daily]
Unlike most of my colleagues who are used to contacting others using WeChat, e-mail and Tencent's QQ at work, I might be in the minority in my office as I still use China Mobile's short message service every day.
But you need to know more before regarding me as outdated. In fact, not only do I often need to communicate with my colleagues online using Real Time eXchange, an instant messaging platform in my office, WeChat and e-mail every day, but I also use China Mobile's short message service to contact my wife because she still uses a 2G (GSM) cellular phone.
So, I often jump from one to another communication platform in order to suit the preferences of the people who talk with me each day.
I believe I am not alone in this regard. Age seems to be a major factor in determining which type of communication tools people use. My parents always choose fixed-line telephone when contacting me, my wife uses mobile SMS, and the first choice of my daughter, colleagues and many friends is WeChat.
Official data show that the majority of the country's internet users and smartphone subscribers are aged between 20 and 50. Young people are more likely to accept new things, new technology and new modes of communication.
In fact, as I am aged over 50, I should be grateful to my daughter and young colleagues, because they have encouraged me to get used to fast-changing means of communication.
The Ministry of Industry and Information Technology said China's SMS volume went down 8.4 percent year-on-year in 2015, 14 percent down year-on-year in 2014, and a yearly 0.6 percent decrease in 2013.
Although the number of SMS users has decreased year by year, I still believe SMS is sometimes a must no matter whether you like it or not.
For example, Baidu Inc sends e-tickets by SMS to movie ticket buyers on its Baidu Minuo platform. I often buy restaurant coupons on Sozhe.com to enjoy at least a 30 percent discount for dinner, but I need to show restaurant staff the coupons that I received by SMS from the website every time before I can eat.
But, nothing is more frustrating than my smartphone being bombarded by endless short messages of various advertisements or commercial promotions, and every time my smartphone rings, I have to take a look at it because I cannot afford missing any important messages from my wife.
As a result, I don't think SMS will soon disappear from our sight. Many young people now seldom use their smartphones to send short messages, although sometimes they have to receive SMS passively.
According to the MIIT, the number of mobile phone subscribers reached 785 million by the end of last year, 39.9 percent of which were 2G (GSM or CDMA) mobile phone users, and this kind of users can hardly access online social chat tools such as WeChat and QQ.
Since we cannot expect the country's 313 million 2G mobile users to upgrade their handsets overnight, SMS is still expected to play a major role in people's daily contact and communication in the next few years.
However, the development of a country's communication technology represents the advanced level of the country. In 2010, 2G cellular phone users accounted for 94.5 percent of the country's total mobile subscribers, but the proportion decreased to 39.9 percent in five years, according to MIIT data.
So, along with the rapid development of the technology, I can hardly imagine whether I will still need to use one more means of communication, instead of those ways such as phone calls, SMS, WeChat, QQ, RTX and e-mail, in contact with other people by the end of next five years?
With excitement and anticipation, I will be ready for all possibilities in this development.