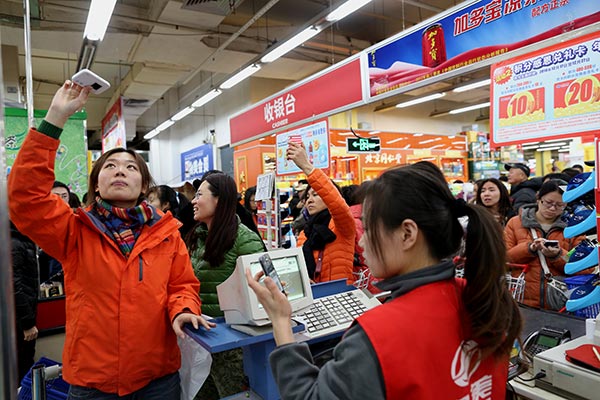 A customer uses mobile payment service at a store in Beijing. Stores across the country are encouraging customers to use apps and give discounts to those who do. [WANG JING / FOR CHINA DAILY]
One does not need to bring along any cash to survive in Beijing for an entire day as long as he/she has a smartphone in the pocket, thanks to the quickly emerging mobile payment services. I tested this theory during a recent weekend.
After covering the China launch of Apple Pay and the availability of various local payment applications over the past months, I was wondering if this digitalized payment method could replace bank cards and wallets in our daily lives today. So, on a lovely Saturday morning in late February, I left my wallet at home and brought my girlfriend out for a date. All I had was a smartphone with a number of apps that can help me deal with all money situations.
I ended up spending 472 yuan ($72) using four apps and it turned out the cash-free card-free payment service was good enough to handle most scenarios. I was never so eager to pay for everything she wanted to buy.
Let me do a quick review of what we did on that day.
I first went to a logistics service spot to mail a portable edifier I did not want anymore. I used the payment function of messaging app WeChat to pay the 12.5 yuan shipping fee. The process was quite simple. I let the delivery guy scan a code bar on the app and an in-app message asking for my permission of payment popped up. All I had to do was press a "yes" button to approve the transaction.
Next up, I needed a cab to take my girlfriend and me to a shopping district downtown. I booked a taxi using Didi Kuaidi, a car-hailing app. In a couple of minutes, our ride arrived and the app automatically collected the fees after we reached the destination.
My girlfriend, who is a foodie, asked for "some snacks" before we had a chance to explore the first store. Standing in front of a deli counter, she made a concentrated inspection of what's inside the counter like a hawk looking for its prey. A moment later, we have braised tripe, spicy duck intestines, potato salad served with gingili oil and a lot of spicy duck necks. Of course I reached for my phone, tapped Alibaba Group Holding Ltd's personal finance app AliPay and paid for all of them.
Almost every store in the mall accepted mobile payment. Whether it's WeChat, AliPay or Apple Pay, I could use at least one app to make the transaction. The stores are encouraging customers to use apps and give discounts to those who do.
It is only months after mobile payment became commonplace in China and it is set to be more acceptable across the country this year.
Tech-savvy Chinese consumers have no trouble trying out new things. Local tech companies are trying very hard to invent products that serve up emerging demands. Following the steps of Alibaba and WeChat owner Tencent Holdings Ltd, Xiaomi Corp also launched its own mobile payment service earlier this year. The Xiaomi services have more functions and users can even use a Xiaomi handset to pay bus fares.
On our way back home in the evening, we decided to stop at a fruit stand for some oranges. I surprisingly found a small hand-written banner that read "We accept WeChat payment" was put beside a basket of strawberries.
That was when I spent the remaining 16.4 yuan on my mobile payment balance.