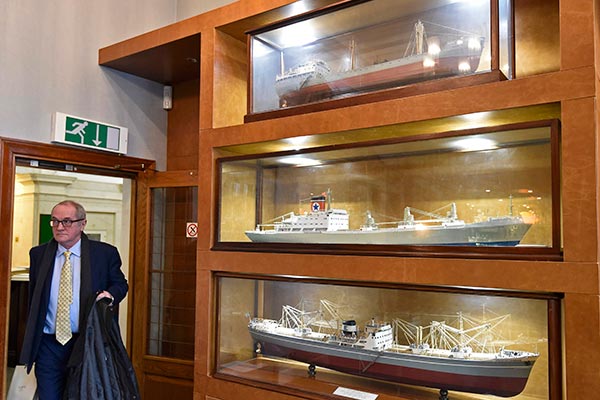 Model cargo ships on display at the Baltic Exchange in the City of London.[Photo/Agencies]
Clearing houses, bourses jostle for control of global shipping market hub
State-run conglomerate China Merchants Group has made an informal bid to buy London's Baltic Exchange, becoming the latest contender for the business that has been the hub of the global shipping market for centuries, two anonymous sources said.
They said the approach was made by the group's subsidiary China Merchants Securities Co.
"They are the latest (suitor) and certainly, with such a massive group, it shows how this is heating up," one source said.
An acquisition of the Baltic, which was founded in 1744, would give the Chinese conglomerate ownership of the industry's benchmark indexes-which could be further commercialized-and greater access to the multi-billion-dollar freight derivatives market.
It is the latest Chinese company to look at shipping and commodities targets in Europe, aiming to take advantage of a market downturn that has pushed down valuations of some firms.
China Merchants Securities, which is listed in Shanghai, did not respond to repeated requests for comment.
A spokesman for China Merchants Group, headquartered in Shenzhen, Guangdong province, said on Wednesday he was not aware of any bid for the Baltic Exchange, adding if there was a bid it would be processed by one of the group's units, which are listed in various locations such as Shanghai, Hong Kong and Singapore.
A Baltic spokesman said the exchange "to date hasn't commented on the identity of anyone involved in the process and declined to comment on whether or not the Baltic is in discussion with CMG".
On Feb 26 the privately held Baltic Exchange confirmed it had received a number of "exploratory approaches" after the Singapore Exchange Ltd revealed it was seeking to buy the business.
Both statements came a day after reports that the Baltic had held talks with SGX and other potential buyers including CME Group, ICE and Platts.
In October, sources said the London Metal Exchange, itself bought by Hong Kong Exchanges and Clearing Ltd in 2012 for $2.2 billion, had made an approach to buy the Baltic.
Clearing houses and exchanges are all looking for a way to distinguish themselves at a time of growing regulatory scrutiny and weak commodities markets. Buying the Baltic would allow any of those entities to diversify their activities into freight.
China Merchants Group is among the country's biggest conglomerates, with interests spanning ports, shipping and financial services.
In December, Chinese authorities approved its acquisition of State-run logistics group Sinotrans and CSC Holdings Co, part of efforts by Beijing to make sprawling government-controlled firms more efficient as economic growth slows.
That deal placed China Merchants' estimated assets, worth 624 billion yuan ($96 billion) and Sinotrans and CSC assets (109 billion yuan) under one roof.
The two sources said China Merchants Securities was willing to pay a premium above other bidders to acquire the Baltic.
Separate sources had previously estimated the deal could be worth about 84 million pounds ($118 million).
Other Chinese firms looking at targets in Europe include China COSCO Shipping Corp Ltd, last month named by Greece as the preferred bidder for its biggest port, Piraeus.
Since then, COSCO has merged with fellow State firm China Shipping Group to create one of the world's biggest commercial shipping companies, China COSCO Shipping Corp.