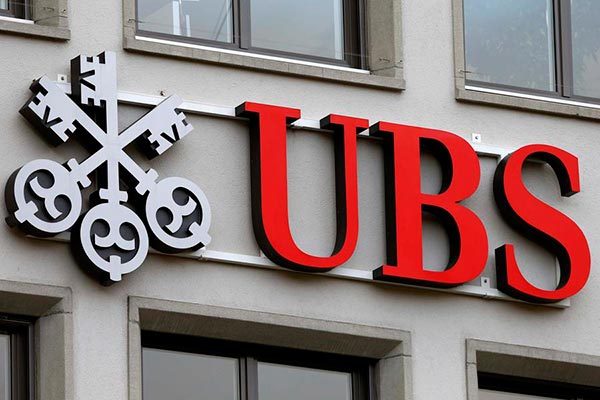 The company's logo is seen at a branch of Swiss bank UBS in Zurich, Switzerland February 2, 2016. [Photo/Agencies]
UBS (China) Ltd, UBS AG's locally incorporated and wholly foreign-owned bank, has announced the opening of its Shanghai branch, which will focus on wealth preservation and succession planning services.
The branch is located in the Xintiandi neighborhood, home to a community of high-net-worth and ultra-high-net-worth individuals.
Amy Lo, head of UBS wealth management for China, said there has been a shift in customer demand in the past few years, with more focus now on family needs.
She said in the past, most UBS clients had been concentrating on growing their wealth, and preferred high-risk, high-yield wealth management products.
Nowadays, they have realized the importance of risk management and wealth preservation, she said.
So, products and services that help them diversify their investments and safely pass wealth to the next generation are under the spotlight, Lo added.
"Currently about 70 percent of our clients are entrepreneurs in the Asia-Pacific region and many in China are the first generation or the second generation of entrepreneurs," she said.
The office will cater to all investment, business and family related needs of its clients including property management, philanthropy and estate planning.
Researchers said such services are getting increasingly popular in China as entrepreneurs wish to put the family wealth under a well-planned and well-structured system to secure stability.
Others, who are unwilling to take over the family business and would like to focus on other fields, will also benefit.
According to the latest report by the All China Federation of Industry and Commerce on business succession planning, only 40 percent of the offspring of entrepreneurs said they are willing to take over their family business, while 40 percent said they are not certain if they are willing to do so, and another 15 percent said they would certainly not take over the family business.
Zhou Bomin, an entrepreneur from Ningbo, Zhejiang province, who runs three plastic products companies, said he is thinking of using the family office service because it offers solutions to many complicated issues.
"Some of my friends have their own family offices and the investment consultants are even helping the business owners to seek overseas merger opportunities and planning children's college education, which are quite appealing to people like me because I am good at plastic products, not necessarily good at financial planning and other fields."