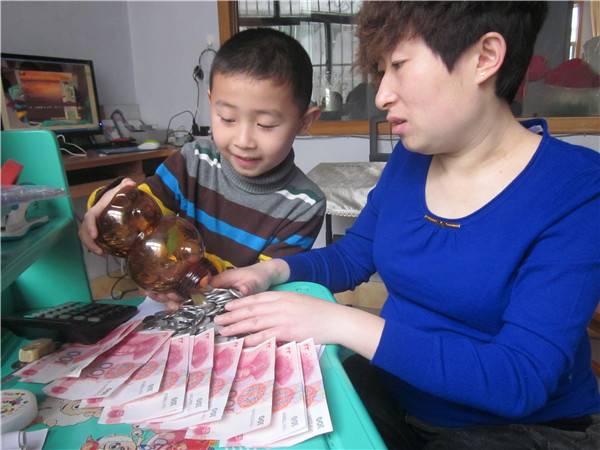 Zhao Lin, a mother from Xintai, Shandong province, teaches her son how to manage money matters. More and more Chinese parents are paying attention to the financial education of their children and encouraging a mature attitude to spending money. XU WENHAO/CHINA DAILY
My 5-year-old son's winter vacation homework had an element of financial education. He will prepare for a short presentation about how he would spend the lucky money received during the Spring Festival.
Lucky money, or yasuiqian in Chinese, is wrapped in red envelopes and given by elders as a wish for good luck in the new year.
When I was my son's age, the routine was to hand in all the lucky money I got, usually less than 20 yuan ($3), to my mother, who had the financial power at home. She said she had to give other children the same amount of or even more money as a return of best wishes.
I was initially a bit surprised that the the amount my son got would allow him to feel as if he owned a big fortune of several thousand yuan.
But on second thoughts, I realized it could serve as an opportunity to teach him about money matters.
A research report by the University of Cambridge commissioned by the United Kingdom's Money Advice Service showed that children's money habits are formed by age 7.
Like many other young parents, I hope my son will get to know about planning, rather than squandering money when he gets older.
Chinese children's pocket money is increasing as household incomes in urban areas are elevated by economic growth, and the one-child policy has resulted in four grandparents and two parents doting on one child.
More than half of middle school students in southern China's Guangzhou get at least 100 yuan per month in pocket money, according to a recent survey by Yangcheng Evening News. More than 20 percent of them even get about 500 yuan a month, which is about a quarter of the urban per capita disposable income in Guangdong province.
But more importantly, the children contend with many monetary issues that the older generation did not face, including market-driven bank interest rates, increased capital market volatility, illegal fundraising, peer-to-peer lending, sky-high college costs and a later retirement age.
We should help our children prepare for the financial real world and avoid a future where they are worried about their financial security.
Parents are the number one influence on children's financial behavior. Schools could also help students improve their financial literacy.
I never received money management coursework during any level of schooling. The personal finance education received by most Chinese of my age was usually from our parents and had only one theme-putting money in piggy-banks. I didn't have any idea about interest rates until I opened my first bank account as a university freshman.
But things have started to change. In September, Guangdong province's education department made headlines by launching financial literacy courses in 36 elementary and middle schools for the first time in the Chinese mainland. More than 10,000 students, from grade five to 10, attend one course every two weeks. Guangdong is one of the country's most economically dynamic regions.
The courses cover topics ranging from making short-term and long-term savings goals to risk management, and from how banks and stock markets work to how a financial crisis breaks out. The pilot project is expected to expand to other parts of the province in the future.
To teach my son some money lessons, I decided to divide the lucky money into two parts.
One is for him to spend. I would give him 10 yuan per month as an allowance and he can decide how to spend the money. I hope he could understand money is finite and it is important to make wise choices.
I also took him to a bank and opened a savings account for him with the rest of the lucky money. I want to show him why his favorite storybook The Berenstain Bears said "putting money in the bank is like hatching chicken eggs".
I hope he can grow up into a mindful consumer and saver, and in the future, an investor and a giver.
Contact the writer at luhaoting@chinadaily.com.cn